Irish Minister's Election Tweet Raises Stakes in PM Vote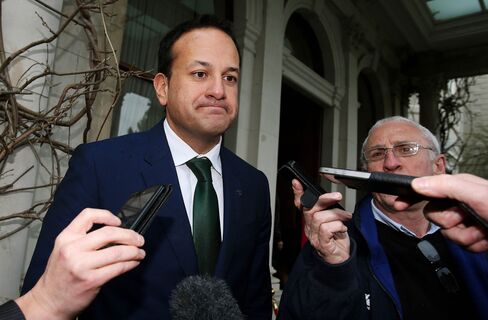 Irish lawmakers vote in Dublin on Wednesday on prime minister

Detailed talks between biggest parties may start after vote
With one tweet, a senior Irish cabinet minister raised the temperature this week as lawmakers prepared another attempt to form a government.
Health Minister Leo Varadkar, tipped as a future prime minister, posted a picture on Twitter of his election posters "cleaned, counted, stored and ready to be deployed." Opponents interpreted the message as a threat to call new elections if Ireland's politicians continue to tarry on the path to forming a governing majority after February's inconclusive vote.
Almost six weeks after Ireland's election, lawmakers will meet in Dublin on Wednesday and vote for a second time to choose a prime minister. With no party commanding a majority, it's all but certain that neither the acting premier, Enda Kenny, nor his principal rival, Micheal Martin, will garner enough support to win. Both sides have signaled they will begin detailed talks on putting a new government in place only after Wednesday's vote.
"Ongoing political uncertainty following the election has yet to impact on markets or the economy, " said Dermot O'Leary, an economist at Goodbody Stockbrokers in Dublin. "But the longer the policy vacuum continues, the bigger the risks get."
Twitter: Leo Varadkar on Twitter
The election resulted in Kenny's Fine Gael and Martin's Fianna Fail controlling more than 90 seats in the 158-seat parliament. And while there's little between the two center parties ideologically, with each side tracing their roots back to the nation's bitter Civil War, they have been reluctant to enter coalition talks.
When the two leaders do eventually meet, there are three alternative outcomes:
A grand alliance between the two parties, probably the only recipe for a stable government
Fianna Fail props up a minority Fine Gael administration -- that could be short-lived
Talks fail and Ireland faces another election


Investors have thus far remained relaxed. Ten-year Irish bonds yielded 0.75 percent on Wednesday, narrowing the spread between benchmark bonds and German securities of a similar maturity to 65 basis points from 83 basis points just before the Feb. 26 election.
Yet threats are beginning to multiply. Concern that the U.K., Ireland's closest trading partner, may exit the European Union has pushed the pound down about 9 percent against the euro this year, hurting Irish exporters. Irish consumer confidence suffered its biggest drop in 17 months in March, an index released on Wednesday showed, driven in part by worries around the vote.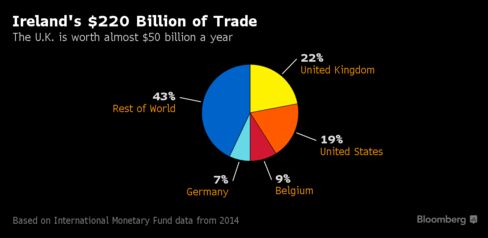 Meanwhile, Varadkar, who says on his Twitter profile that he "has been known to talk too much," received a warning of his own after his election tweet.
"Be very, very careful for what you wish!" tweeted Denis Naughten, a non-aligned lawmaker who leads a group of independents considering whom to support as prime minister.
Before it's here, it's on the Bloomberg Terminal.
LEARN MORE