Default swaps decline as ringgit leads gains in Asia this year

Too early to call positive trajectory in Malaysia: Fitch
A rally in oil helped cut Malaysia's bond risk by the most among investment-grade nations as an embattled state-investment company sold assets to cut debt.
The cost to protect five-year sovereign notes with credit-default swaps dropped 80 basis points in the six months through March to 153 basis points, CMA prices show. That's unwound much of the 98 basis-point surge in the previous six that came as a plunge in Brent crude cut government revenue and corruption scandals surrounding 1Malaysia Development Bhd. shook the administration of Prime Minister Najib Razak.
The oil rally lifted the ringgit from its weakest level in 17 years and boosted foreign-exchange reserves toward the $100 billion mark they breached in July for the first time since 2010, robbing Najib's political opponents of ammunition. The Malaysian currency shrugged off a drop in Brent crude over the past two weeks to keep rising as 1MDB, which is still the subject of global probes, said it plans to repay all of its short-term debt and bank borrowings in coming weeks after selling its energy assets.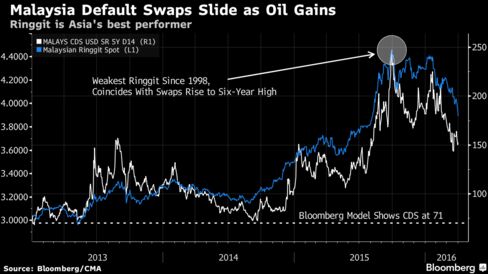 "We see the recent tightening of Malaysia's CDS spread as mainly due to the rebound in oil prices from the trough in January," said Vincent Tsui, a Hong Kong-based economist at global asset-management firm AllianceBernstein LP, which oversees $460 billion. "I think the 1MDB development isn't the key market focus for now, although the liquidation of some of the assets alleviates some of the market concerns."
Bloomberg modeling shows that the contracts still cost about 70 basis points more than would be warranted by economic fundamentals, signaling that investors may remain concerned about political risks as former premier Mahathir Mohamad steps up his campaign for Najib's ouster.
Malaysia's Attorney General Mohamed Apandi Ali cleared Najib of any wrongdoing in January, saying he returned $620 million of the $681 million he received as a donation from Saudi Arabia's royal family in August 2013, without specifying what the rest of the money was used for. The prime minister and the state firm have consistently denied any wrongdoing.
"It's too early to call a positive trajectory in Malaysia's fundamental creditworthiness," Andrew Colquhoun, the head of Asia Pacific sovereigns at Fitch Ratings in Hong Kong, said in a an e-mail interview on March 29. "In particular, tensions still seem to be building up in the political arena. This kind of thing can make investors nervous. Global investor risk appetite could also weaken again."
Oil Swings
Gyrations in the default swaps have largely tracked movements in the ringgit because Asia's only net oil exporter is vulnerable to swings in Brent crude, which despite rallying about 40 percent from January's low is still around a third of its price in June 2014. The currency posted its biggest gain since 1973 in the first quarter and this year's 9.5 percent advance is the biggest in Asia. It slipped to 4.48 last September, the weakest since the regional financial crisis in 1998.
As the ringgit reached its low, the default swaps rose to 247, the highest in more than six years. The ascent in the contracts started to accelerate around November 2014 when 1MDB reported its debt had surged to 41.9 billion ringgit in the 12 months through March, compared with 7.8 billion ringgit two years earlier. Najib chairs the firm's advisory board and Mahathir is suing him for alleged wrongdoing involving 1MDB.
The storm around the investment company drew a warning from central bank chief Zeti Akhtar Aziz about an erosion of investor confidence. Bank Negara Malaysia had pressed for criminal proceedings against 1MDB last year for an alleged breach of the Exchange Control Act but the Attorney General's office dismissed the request.
Asset Sale
1MDB raised 9.83 billion ringgit via the sale of its Edra Global Energy Bhd. power assets to China General Nuclear Power Corp for around $2 billion, and settled the remaining balance of a 3.5 billion ringgit syndicated loan. 1MDB President Arul Kanda said in a March 30 interview that the firm will repay 6 billion ringgit of debt in the coming weeks and will have a cash surplus of at least 2.3 billion ringgit once completed. The company won't have any short-term debt and bank loans after the debt repayments, Kanda said.
"I wasn't too worried about the negative headlines or the price action because there's a very strong underlying state support for the bonds," said Luc D'Hooge, head of emerging-market bonds at Vontobel Asset Management in Zurich, which holds 1MDB's notes due 2023. "The quality of the company is something else of course."
Fitch, which rates Malaysia the fourth-lowest investment grade, cut the nation's credit outlook to negative from stable in 2013 citing concern over public finances and weak prospects for budgetary and fiscal reform. Najib implemented a consumption tax in April 2015 after scrapping fuel subsidies the previous year.
That was enough for the credit assessor to restore the stable outlook on Malaysia's A- ranking in June 2015. And this January, Najib maintained the fiscal-deficit goal at 3.1 percent of gross domestic product for 2016, while lowering the growth target to 4 percent to 4.5 percent, from as much as 5 percent. Standard & Poor's affirmed its rating for Malaysia on March 28 while Moody's Investors Service lowered its outlook in January. Both have stable assessments.
Zeti Successor
Investors are also awaiting the appointment of a replacement for central bank Governor Zeti, whose term ends in April after 16 years in the position. She has kept the benchmark interest rate on hold since July 2014 and has this year succeeded in restoring currency reserves. Najib has given no indication of who will succeed her.
Sentiment toward Malaysia has improved as oil prices stabilized and the government affirmed its commitment to consolidate public finances, according to PineBridge Investments. Barring a major change in the economic or political outlook, the nation's government bonds are likely to be relatively resilient in the medium to long term, said Omar Slim, a Singapore-based vice president of fixed income at the company, which oversees $84.5 billion globally.
"The outlook depends on external drivers, such as oil prices, sentiment around emerging markets and some Malaysia-specific factors," said Slim. "It is important that the political noise out of Malaysia subsides and for investors to continue to have trust in the strength and integrity of Malaysia's institutional framework."
Before it's here, it's on the Bloomberg Terminal.
LEARN MORE