India Rate Decision Day Guide: Eyeing a 25 or 50 Basis-Point Cut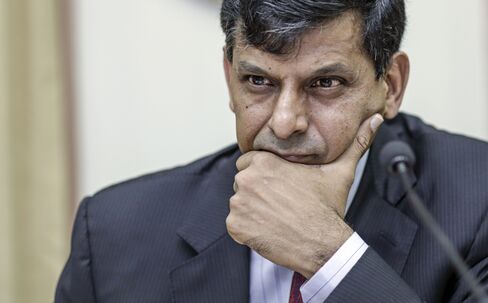 Economists expect cut before pause to assess inflation risks

Focus on liquidity may intensify amid "huge" deficit
All indications are that central bank Governor Raghuram Rajan will cut India's interest rates on Tuesday for the first time since September, and then take a long break.
Slower-than-expected inflation and a pledge for continued fiscal tightening have opened room for monetary easing in an economy that's showing mixed signs of strength. Rajan will lower the benchmark repurchase rate to 6.5 percent from 6.75 percent, according to 36 of 42 economists in a Bloomberg survey. Four see a reduction to 6.25 percent and two see no change.
A separate survey shows that easing beyond a quarter-point will happen only in October-December. That's after clarity emerges on monsoon rains, which are a key risk to food inflation.
Analysts will comb the central bank's forecasts and seek guidance on whether its stance will stay accommodative. Here's what to look for in the policy statement, scheduled for release at 11 a.m. in Mumbai. Rajan typically holds a press briefing immediately afterward.
25 or 50?
Economists at Citigroup Inc. and Nomura Holdings Inc. see a possibility that Rajan will slash rates by 50 basis points on Tuesday, after inflation eased to 5.2 percent in February instead of the 5.5 percent estimated. State Bank of India's Soumya Kanti Ghosh is more certain: he sees future price increases "well below" 5 percent, which is Rajan's inflation target for March 2017.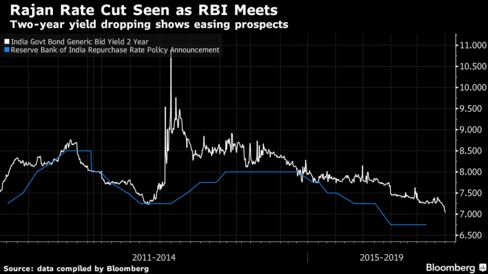 Others predict Rajan will split the cut into two equal parts, with the second reduction dependent on the strength of the monsoon. The July-September rainfall waters about half of India's farmlands, so the risk is that a third consecutive drought would stoke food prices that account for half of the consumer-price basket.
"There is a 50 basis-point room for monetary easing," Religare Securities Ltd. economists, led by Jay Shankar, wrote on Monday. "However, this is dependent on the inflation trajectory."
Still Accommodative
While Citi's Samiran Chakraborty expects Rajan to reiterate his "accommodative stance," he also predicts "certain pre-conditions for further easing" such as monsoon trends and guaranteed crop prices. Citi estimates that a scheduled pay increase for state employees may add as much as 50 basis points to inflation readings.
Fine-Tuning Liquidity
"RBI's monetary policy over the past year has rested on three main pillars: rate action, forward guidance and liquidity management," HSBC Holdings Plc economists, led Pranjul Bhandari, wrote. "Over the next 12 months, we expect RBI policy to continue to rest on these three pillars, but the central bank may well reverse their order of importance."
That would mean injecting more cash into the banking system, to address what Societe Generale SA calls a huge liquidity deficit. Nomura sees the possibility of a cut in the daily cash reserve ratio -- the proportion of deposits banks need to maintain as cash -- or a preference for overnight repo auctions rather than longer-term cash injections.
Before it's here, it's on the Bloomberg Terminal.
LEARN MORE