Javid Won't Rule Out Brief Nationalization of Tata U.K. Business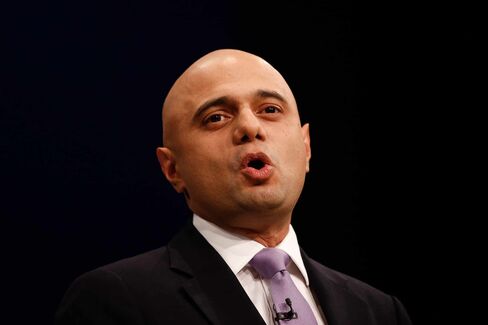 Business Secretary says not `prudent to rule anything out'

Javid says he doesn't think `nationalization is a solution'
Business Secretary Sajid Javid declined to rule out a temporary nationalization of Tata Steel's U.K. operations, while reiterating the government would prefer not to do so.
"I don't think nationalization is a solution for this," Javid told BBC Television's "Andrew Marr Show" on Sunday. "I also think it wouldn't be prudent to rule anything out."
The British government is seeking to combat a crisis in its domestic steel industry after India's Tata said on March 29 it's considering the sale of its loss-making U.K. division. That jeopardizes 40,000 jobs, including 6,500 at a plant in South Wales, as well as the U.K.'s ability to produce the metal.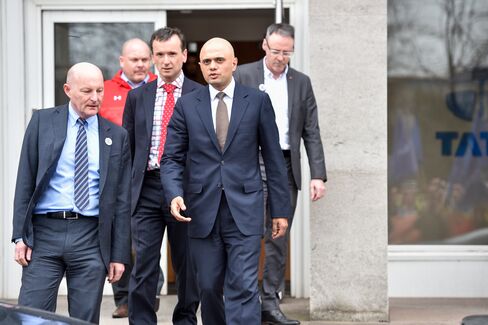 It comes at a sensitive time for the government, with Welsh Assembly elections a month away and deepening rifts in the ruling Conservative Party before the June 23 in-or-out referendum on European Union membership.
Javid said the government is working with Tata to attract a buyer with the aim of keeping steelmaking in Port Talbot, Wales. "Our plan is to find a commercial buyer. There will be enough time to find the right buyer."
Shadow Chancellor of the Exchequer John McDonnell told the BBC that the opposition Labour Party backs a state takeover of the steelworks if that's needed to keep it open while a buyer is lined up.
"We needed an industrial strategy that encourages buyers to come forward," said McDonnell. "If we need to nationalize in the short term, fine."
Liberty House founder Sanjeev Gupta told the Sunday Telegraph newspaper he's ready to open talks with the government on a rescue plan. Any deal would require a "proper partnership," said Gupta, who added he hasn't made a proposition to buy all of Tata's U.K. business.
Greybull Capital
Tata is in talks to sell its long products steel division, which employs more than 3,300 people, to Greybull Capital, a Tata spokesman said on Saturday.
The Indian company's decision on the U.K. division followed several quarters of losses and 2 billion pounds ($2.8 billion) of writedowns that left the unit with an asset value of almost zero. With steel prices at their lowest in a decade, higher U.K. wages and energy costs left the business exposed to competition from cheap Chinese imports.
Addressing competition concerns, the government is changing the rules on steel procurement and for the first time will require the public sector to "specifically consider" domestic steel for infrastructure projects, Javid said in a statement on Sunday.
Before it's here, it's on the Bloomberg Terminal.
LEARN MORE