Bank of Israel Signals More Dollar Buying to Curb Shekel Rally
Central bank intervened on Friday in FX market: Mercantile

Citi recommends buying the shekel and selling Hungary's forint
Bank of Israel Governor Karnit Flug pledged to keep intervening in the foreign-exchange market if needed to tame the shekel, which gained more in March than any month since 2011.
Israel's currency is still too strong and continues to hamper growth in exports that account for about a third of the country's economy, according to Flug, who spoke Sunday at a news conference in Jerusalem. The latest intervention took place on Friday when the central bank bought a "medium" amount of dollars, Mercantile Discount said that day. The shekel has weakened 0.7 percent in the past two days.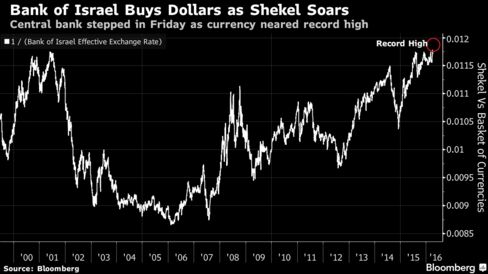 Policy makers are struggling to curb gains that drove the shekel to a record against a basket of currencies on Thursday, pushing down the cost of imports and helping to stoke deflation that's gripped the country for 18 months. The central bank, which held a record $91 billion in foreign-currency reserves at the end of February, left borrowing costs near zero for a 13th month last week as the outlook for economic growth was revised down by the Finance Ministry.
"Flug's comment signals that the central bank is under pressure, but her words won't be enough to have an impact as the currency's strength will continue to be driven by the weakness in the U.S. dollar," Moshe Shalom, head of research at currency brokerage FXCM Israel Ltd., said by phone. "The central bank will need to buy a few hundred millions of dollars to weaken the currency and is likely to intervene if the shekel moves below 3.75."
The shekel fell 0.2 percent to 3.7828 per dollar at 2:23 p.m. in Tel Aviv, trimming its appreciation in the past month to 3.4 percent. The Bank of Israel purchased $8.8 billion last year which it said was in large part to reduce volatility on the market. Policy makers will continue to take steps to support export growth and the economy is in "reasonable shape," Flug said yesterday.
The Finance Ministry last week revised its 2016 growth forecast down to 2.8 percent mainly due to weakness in exports, which fell 3.6 percent in February.
The shekel will continue to strengthen in coming months, Citigroup Inc. said on Monday, recommending investors buy the currency and sell Hungary's forint.
Before it's here, it's on the Bloomberg Terminal.
LEARN MORE