Tepper Bets SunEdison's Woes Won't Drag Down TerraForm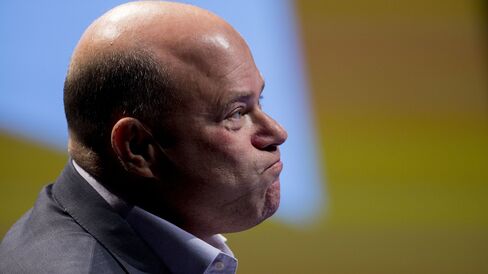 Appaloosa raises stake in TerraForm to 10.88% from 9.5%

SunEdison preparing for bankruptcy protection, WSJ reports
Billionaire hedge fund manager David Tepper is betting that the worsening health at SunEdison Inc. won't spread to its TerraForm Power Inc. yieldco unit.
Tepper's Appaloosa Management LP boosted its stake in TerraForm Power to 10.88 percent, from 9.5 percent, according to a regulatory filing on Friday.
The added investment comes as TerraForm's parent teeters on the edge of bankruptcy. TerraForm Global Inc., another SunEdison yieldco, said as much in a filing on March 29: "Due to SunEdison's liquidity difficulties, there is a substantial risk that SunEdison will soon seek bankruptcy protection."
Late Friday, the Wall Street Journal reported that SunEdison is in talks with two creditor groups for a loan to tide it over as it prepares to file for bankruptcy protection. The newspaper cited unidentified people familiar with the matter.
SunEdison has spent more than $3 billion since the start of 2014 buying wind and solar projects on six continents, racking up $11.7 billion in debt. Tepper has spent months criticizing SunEdison's control of TerraForm Power, which was formed in 2014 to own and operate power plants while the parent chased expansion and became the world's biggest clean energy company.
'Quality Assets'
TerraForm Power owns "quality assets under long-term power-purchase agreements," Jeffrey Osborne, an analyst at Cowen & Co., said in an interview before the Journal's article was published. "The owner of these assets should be fine whatever happens to SunEdison."
SunEdison is facing potential default on $1.4 billion in loans and credit facilities. It has been unable to file its 2015 annual report and disclosed Thursday that the U.S. Justice Department is investigating its failed $1.9 billion bid to buy Vivint Solar Inc.
Tepper said he increased his stake in TerraForm Power because the price had declined and he sees value in its assets.
"All we want is for the company to be run the right way," Tepper said Friday in a phone interview.
Ben Harborne, a SunEdison spokesman, and Brett Prior, TerraForm's head of investor relations, didn't immediately return calls seeking comment.
Slumping Shares
TerraForm Power shares have slumped by about half since November as investors became more critical of SunEdison, which controls the yieldco. They gained 13 percent to $9.83 at the close Friday, the most in more than three months.
SunEdison's shares last changed hands at 23.5 cents in heavy after-hours trading in New York on Friday evening. The stock had closed at 43 cents in regular trading, the lowest since in started trading in July 1995.
"If investors can get comfortable with the risks stemming from a potential SunEdison bankruptcy, they are now in a position to buy these assets at a 50 percent discount," Michael Morosi, an analyst at Avondale Partners LLC, said Friday in an e-mail. He has a $15 price target on TerraForm and rates the shares the equivalent of hold.
The TerraForm yieldcos aren't completely shielded from the issues at their corporate parent. Morosi said some power-purchase deals and project-level debt may have to be restructured if SunEdison seeks bankruptcy protection.
Reduced Rating
Those issues mean there is some risk to the shareholders of the TerraForm yieldcos, Moody's Investors Service researchers led by Swami Venkataraman wrote in a March report. That's part of the reason Moody's lowered its credit rating for both of the yieldco units to B3.
"Either or both yieldcos might eventually end up in bankruptcy in the event of a SunEdison bankruptcy, indicating sponsor contagion risks and weaker corporate governance," according to the report.
Tepper has been a vocal critic of SunEdison. Last year he derided SunEdison's move to overhaul TerraForm Power's board and questioned the yieldco's independence from its corporate parent. He was especially concerned about the Vivint deal, which called for TerraForm Power to buy Vivint's operating rooftop solar assets.
In January, Appaloosa sued to block the $1.9 billion acquisition, which eventually fell apart last month. TerraForm Power Chief Executive Officer Brian Wuebbels resigned March 30, shortly after Appaloosa reiterated its call for the company to make changes to its leadership. Wuebbels also stepped down as CEO of TerraForm Global.
"Appaloosa appears increasingly willing to play an active role in that process, which could allow them to become more comfortable taking on some of those risks," Morosi said. "The fundamental concept behind holding a portfolio of renewable energy projects in a publicly traded vehicle remains as valid as ever. These are low-risk, high-quality operating assets that offer investors an attractive return profile when packaged and valued correctly."
Before it's here, it's on the Bloomberg Terminal.
LEARN MORE