French carriers fail to reach deal after months of discussions

Accord would have reduced players in market to three from four
Orange SA abandoned its attempt to buy the phone business of Bouygues SA, denying the French phone industry a much-sought consolidation that would have eased competition in one of Europe's toughest markets.
"After in-depth discussions, the board of directors of Orange has concluded that an agreement regarding a possible consolidation with Bouygues Telecom has not been reached," Orange said Friday in a statement.
The sides had imposed a deadline by the end of the weekend, but the talks broke down well before then. Bouygues, in a separate statement, said key sticking points included social guarantees for its employees, the level of its stake in Orange and related governance, execution risk and the valuation of its telecom unit.
Negotiators toiled for months to craft an agreement involving at least four companies and the French government. In the end, the obstacles were too much to overcome. An accord would have cut the number of major French wireless carriers to three, giving Orange breathing room to save on costs such as equipment purchases and customer service.
Government Role
Orange was negotiating with competitors Iliad SA and Numericable-SFR SAS and the French state over the sale of assets to fend off antitrust concerns. A deal would have valued Bouygues' carrier at as much as 10 billion euros ($11 billion). Disagreements surfaced over issues such as valuation, breakup fees and who would buy or take over assets such as Bouygues' mobile frequencies and network, stores and personnel, people familiar with the matter said over the past weeks.
In effect, a transaction would have made Bouygues a partner with the French government, Orange's biggest shareholder. Bouygues failed to sway the government on the price it would pay for Orange shares, standstill terms for increasing its Orange stake, and voting rights, according to people familiar with the negotiations. Antitrust risk also caused hesitation at Bouygues' board, and an already complex deal became too messy after other players started to back away from annex agreements about asset sales, said the people, who asked not to be named because the details weren't public.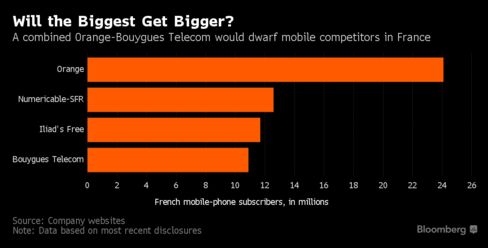 The failure leaves the number of major mobile-phone companies in France at four. Domestic European carriers have been combining in the aftermath of massive price drops caused by Iliad's 2012 entry into the mobile market with discounted offers. While the companies have argued they can't sustain investment unless competition eases, regulators have applauded cheaper phone packages as benefiting consumers.
"The breakdown of the merger talks is bad news for the French carriers, who have been engaged in a destructive price war since the arrival of Iliad," said Roger Entner, an analyst at Recon Analytics. "A merger would have helped to stabilize prices, improve margins and increase investments in network improvements for all carriers in France."
Iliad's Free Mobile wireless service has brought down prices in a country where charges for phone services had been higher than in other European countries.
"It is going to be challenging for both companies as Free is likely to continue to torture the incumbents in the market and keep up the pressure on revenues and margins," said Chetan Sharma, an independent wireless analyst.
Orange said Friday it will continue to invest in high-speed broadband networks.
Big Personalities
The company said on Jan. 5 it was in talks to buy the Bouygues business. The government holds about 23 percent of Orange, the former state phone monopoly. France's holding includes a direct stake of about 13 percent and about 10 percent owned through Bpifrance, the public investment bank.
With big personalities, including Orange Chief Executive Officer Stephane Richard, his counterpart Martin Bouygues, and senior French politicians involved, the negotiations often teetered on failure. Orange had said it was aiming for a decision by the end of March. Bouygues said Feb. 24 the talks need to be completed by the end of the first quarter to limit disruption to clients, employees and the market.
After missing that deadline this week, they made one last failed push to clinch an agreement.
Before it's here, it's on the Bloomberg Terminal.
LEARN MORE