Gagosian Probed Over 'Bust of a Woman' in Murky World of Art Deals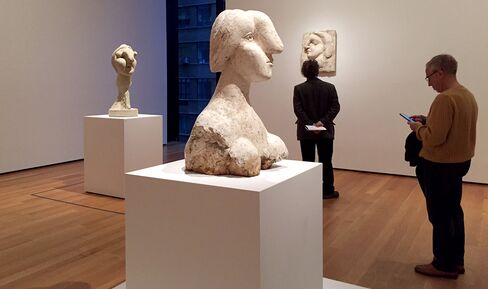 Criminal inquiry follows lawsuits over dueling sale contracts

Blurred lines of art brokers endemic to secretive world of art
An international tug-of-war over a Picasso bust has drawn Manhattan prosecutors to one of the world's most powerful art dealers.
The Manhattan District Attorney's office has begun an inquiry into possible criminal misconduct by Larry Gagosian over his disputed purchase of the famed 1931 artwork known as "Bust of a Woman," according to people familiar with the matter.
Jeffrey Schneider, a spokesman for Gagosian Gallery, declined to comment.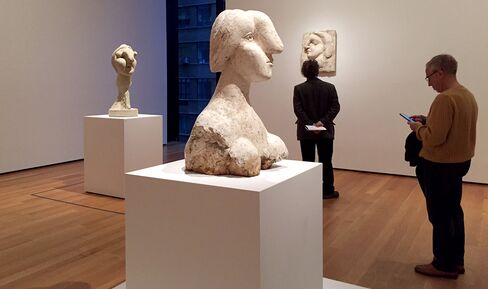 It is the latest sale to draw the scrutiny of prosecutors in the often secretive art world, filled with promises and handshake agreements and not infrequently, civil lawsuits. Art brokers and their clients sometimes feud, and titles can be hard to authenticate. Federal prosecutors are looking into the actions of another renowned art dealer, Yves Bouvier, for possible wrongdoing in a number of art sales, people familiar with that inquiry said last month. Bouvier has denied wrongdoing. Though accusations fly, criminal actions have been rare in the art community, outside tax evasion and outright fakes.
Gagosian Lawsuits
Gagosian -- an art-world eminence with 16 galleries from New York to Hong Kong lined with Bacons, Giacomettis and Pollocks -- has been embroiled for months in civil lawsuits over the rightful ownership of the bust, whose grotesque nose and skewed eyes instantly register in the mind as Picasso's. The cast of characters includes the artist's descendants, Gulf royals and a private-equity billionaire.
No one disputes that two separate sales agreements for the bust were struck months apart with Picasso's heirs. But according to opponents in the civil cases, Gagosian Gallery interfered in the first sale and, before payment was complete, conspired to buy the same piece for more than twice the price and then sell it to Leon Black of Apollo Global Management.
In court filings asking the judge to award him title to the artwork, Gagosian has said that he didn't learn of the previous contract until months after he completed his own deal, which he has said should be valid.
A spokesperson for the District Attorney's office declined to comment.
The people familiar with the matter said the inquiry was in early stages and noted it could be abandoned even as the civil cases proceed.
Murky World
In a murky world where the relationships of art buyers, sellers and dealers can become blurred, Gagosian had a high-profile dispute previously with billionaire Ronald Perelman. Perelman claimed in court documents that he and Gagosian had a fiduciary relationship -- with multiple deals over two decades -- and that Gagosian concealed "material information" to induce him to buy "Popeye," a $4 million Jeff Koons sculpture.
Gagosian also sued Perelman for failing to pay for other works of art. Gagosian dropped his suit, and a five-judge appeals court panel dismissed Perelman's fraud claim in December 2014, saying that the parties negotiated at arm's length and didn't owe fiduciary duties to each other.
Picasso's Muse
Though best known for his galleries, Gagosian also embraces the role of dealer. In court filings, he says he agreed to buy the Picasso bust for $106 million in May 2015 and had "secured a buyer" for it. The buyer turned out to be Black. On display at the Museum of Modern Art until February, "Bust of a Woman" doesn't depict just any woman. It is Marie-Therese Walter, Picasso's muse and model and the mother of his daughter Maya Widmaier-Picasso.
The way Gagosian's deal with Picasso's daughter came together is contested in the civil suits. Maya agreed to sell the bust in November 2014 for 38 million euros ($47.4 million at the time) to a Qatari royal that intended to display it at a sprawling art complex in Doha, the group says in court filings. Pelham Europe Ltd. handled the deal on behalf of the royal and declined to comment further through its lawyer
According to the Pelham complaint filed in March, the transaction drew the anger of Maya's own daughter, Diana Widmaier-Picasso. A long-time business associate of Gagosian, Diana demanded Maya cancel the sale after Pelham had made two of three planned payments, according to Pelham's suit, which accuses Gagosian and Diana of interfering with the contract.
Unconsummated Sale
Gagosian had sued Pelham in January for title to the bust. In his court filings, he said he didn't learn of the prior deal until several months after his own purchase from Maya. Because Maya never accepted full payment from Pelham, he contends that sale wasn't consummated and he is the rightful owner. He has paid 75 percent of the $106 million, according to court documents.
"We remain confident that, as the full story is laid before the Swiss, French and U.S. courts, that the Gagosian Gallery's ownership will be confirmed," a lawyer for Maya and Diana said in an e-mailed statement. "The good faith sale to Gagosian Gallery was done only after Pelham was notified by legal counsel of the termination of its sale agreement."
Black, who is also a defendant in the Pelham suit, declined to comment through a lawyer. An avid collector whose art cache is valued at $800 million, according to the Bloomberg Billionaires Index, Black has purchased prominent works including Edvard Munch's "The Scream," which set him back $120 million in 2012.
Gagosian and Diana conspired to covertly move the bust out of France to New York for the recent Picasso exhibition, the complaint continues, and then sell it to Black when it closed in February. The bust is now in Gagosian's possession as the civil suits continue, according to court filings.
"The sale was anything but 'secret' or 'rushed' as the sculpture had been a major loan in 2011 to Gagosian Gallery for an internationally reported and published Picasso sculpture exhibition," according to the statement from Maya and Diana's lawyer.
Before it's here, it's on the Bloomberg Terminal.
LEARN MORE