ECB's Quantitative-Easing Program Surpasses Italy's GDP: Chart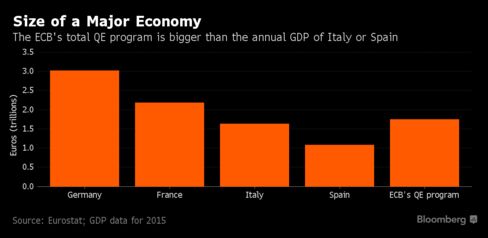 What's a central bank to do? The European Central Bank's 1.74 trillion-euro ($2 trillion) quantitative-easing program exceeds the annual gross domestic product of Italy and Spain, and the 80 billion euros a month it spends on buying bonds to spur lending by the bloc's banks tops the fortune of Bill Gates, the world's richest man. Even so, inflation hasn't come near the target of just under 2 percent since early 2013.
Before it's here, it's on the Bloomberg Terminal.
LEARN MORE