Tesla Buyers Wait in Lines Hundreds Deep to Place $1,000 Reservations on a Model 3
Put down money today for an electric car, sight unseen, while hoping to drive it in 2017.
Early adopters of Tesla Motor Inc.'s new electric car, the Model 3, queued up outside showrooms around the world on Thursday to put down money on a vehicle that none of them have yet seen. Some fans even camped overnight to first in line for the privilege of paying a $1,000 deposit for a car that will have its public debut at an event on Thursday evening. The first deliveries may not come for another 18 months.
In response to the outpouring of interest—and money—Tesla Chief Executive Elon Musk promised a surprise to those who waited in line.
The first buyers able to make deposits on the Model 3 stood in lines under cloudless skies in Australia. Tesla showrooms around the world began taking Model 3 reservations at 10 a.m. local time:
In Montreal, a downpour wasn't enough to deter Tesla diehards.
In Brooklyn's Red Hook neighborhood, outside one of Tesla's newest showrooms, a man camped overnight to be first in the line. The person behind him used TaskRabbit, an online service for short-term jobs, to pay someone to wait. When the doors opened, only a handful of customers were allowed in at a time, with each customer assigned their own Tesla sales employee in a separate section of the showroom. The four employees processed the credit-card reservations on tablet computers, taking only a few minutes, and the line moved quickly.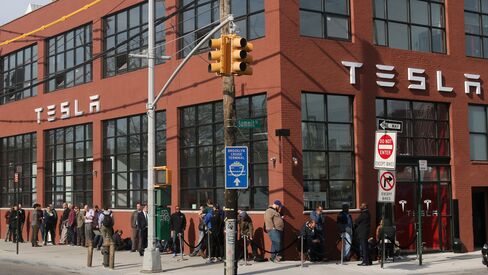 At a mall in Short Hills, N.J., more than 200 people snaked through halls waiting for their turn. Casey Maxwell, a 27-year-old athletic trainer from Princeton University, had been waiting since 2:30 a.m. and slept in the mall parking lot before the doors opened. That was enough to make her first in line. "I saw this car everywhere and I thought, 'What is that?'" Maxwell said of Tesla's $70,000 Model S sedan, which sells for more than twice the price of the forthcoming Model 3. "I've just been following Tesla ever since and waiting to see when the release date would be for this economy model, one that I could afford."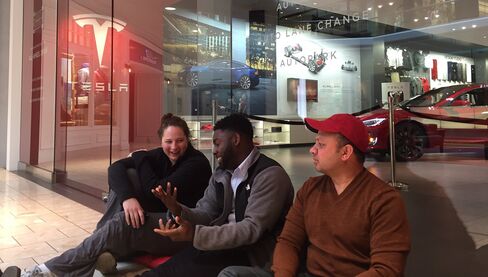 Tesla posted a video of the line in Bellevue, Calif., where hundreds of people massed hours before the showroom opening.
The same scene played out in Austin ...
... in Denver ...
Instagram: Daniel Sparks on Instagram
... in Raleigh ...
... in Zurich, Switzerland ...
... and in Seattle.
The company will unveil the Model 3 at an event in Hawthorne, Calif., at 8:30 p.m. West Coast time. The first deliveries are scheduled for late 2017, assuming Tesla hits its production target, which would be a first for the California carmaker. Wall Street analysts are expecting more than 100,000 reservations to come in during the next two weeks, raising more than $100 million in interest-free capital for Tesla to use in the Model 3 rollout.
Musk has called the Model 3 his company's most important car. It is designed to carry the success of the luxury Model S into a more mainstream market, with a $35,000 starting price. Early buyers in the U.S. will benefit from a $7,500 federal tax incentive that will probably begin phasing out for Tesla in late 2018.
Tesla shares rose 3.6 percent on Thursday. The stock has rallied 63 percent since falling to the year's low on Feb. 10. In a series of Tweets on Wednesday, Musk said the company won't reveal all of the features of the Model 3 at the unveiling, but will have a second showing of the car closer to the launch date.
Before it's here, it's on the Bloomberg Terminal.
LEARN MORE