Spring's Just Begun and These Investors Have Summer on Brain
Now's when they're putting on bets for summer travel stocks

U.S. travel-related companies tend to bottom in first quarter
It's not yet April and some investors already are betting that come summer, Americans will pack up the family and hit the road.
By buying months ahead of peak travel season, the managers hope to reap returns later on. The Dow Jones U.S. Travel and Tourism Index, which includes Priceline Group Inc., TripAdvisor Inc. and Hertz Global Holdings Inc., has hit bottom 60 percent of the time in the first quarter of the last 10 years, only to peak versus the benchmark in the final three months with the same frequency. Airline and hotel stocks have followed similar patterns.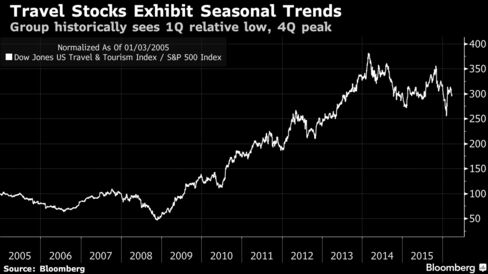 Travel-related companies, particularly those with exposure to car-borne vacationers, could be a bright spot for the broader consumer-discretionary industry. The group has struggled in 2016 -- it's barely outpacing the Standard & Poor's 500 Index after a six-year run as the bull market leader.
Thanks to lower gas prices, continued gains in employment and more mileage logged by U.S. travelers, betting on a "travel America" theme started to make sense in the fourth quarter, said John Augustine, chief investment officer for Huntington Trust in Columbus, Ohio, which oversees more than $12 billion. "We viewed this as a high summer travel year, so we began to look at companies and stocks that would potentially benefit from that -- the types of companies you'd encounter on a trip along Route 66."
The trade has been anything but a smooth one in 2016. Just weeks after Augustine and his colleagues began initiating positions in Cracker Barrel Old Country Store Inc., Valero Energy Corp., Marriott International Inc. and others, the S&P 500 tumbled for three straight weeks, hitting a 22-month low in February. Meanwhile, the probability of a U.S. recession jumped to the highest since 2013, according to the median estimate of economists surveyed by Bloomberg.
Augustine and his colleagues hung in, concluding that prospects for U.S. consumers remain solid and will get further support after Federal Reserve Chair Janet Yellen reasserted a "firmly dovish" stance this week. Last week's deadly terrorist attacks in Brussels, which targeted a train station and the city's airport, served to cement their resolve in a domestic-oriented travel theme, he said.
That rings true for Scott Wren, a senior equity strategist in St. Louis at Wells Fargo Investment Institute. Terrorism abroad could make some Americans skittish about going to Europe, while lower gas prices and a continually improving labor market support increases in consumer spending.
"We could see some pretty impressive attendance at places like Disney, Yellowstone National Park and the Grand Canyon," Wren said. "Many consumers have the means, willingness and desire to travel."
That's buoyed by consumer confidence, which rose more than forecast this month to 96.2 as American households grew more optimistic about prospects for the labor market and economy. Meanwhile, the average price of a gallon of regular unleaded gasoline, at $2.058, is down about 15 percent from a year ago.
Another prong of the domestic-oriented travel theme: recreational vehicles like campers. Low gas prices and interest rates, consumer confidence and an aging population suggest this industry could see continued strength, said Bill Barker, a fund manager who helps oversee about $630 million at Motley Fool Asset Management in Alexandria, Virginia. In addition, these companies tap into the "experiential" type of spending that many consumers have favored post-recession, he said.
Barker and his colleagues don't invest based on seasonality, but they've held Thor Industries Inc. and Drew Industries Inc. since 2010 and more recently added to positions in Spirit Airlines Inc. and TripAdvisor Inc. The bet on demand for RVs got an extra boost earlier this month after Thor reported better-than-estimated earnings and revenue, sending the stock up 6.3 percent, the most in more than two years.
"We're well exposed in our domestic market to the travel industry and comfortable about that right now," Barker said. "Certainly travel looks pretty good."
Two months ahead of Memorial Day, the unofficial start of summer, is neither too early nor too late to consider the vacationing habits of U.S. consumers, Augustine said. "This is a trade you want to get into in the first quarter and then you have to evaluate again around Labor Day."
Before it's here, it's on the Bloomberg Terminal.
LEARN MORE