Loeb Takes on Seven & I Board in Japan Governance Test
Just 1% of Topix 500 board structures deemed good by Jefferies

Seven & i board said to meet next week on succession
The latest activist showdown involving billionaire investor Dan Loeb has the makings of a test case for the progress Japan Inc. boards have made in improving governance.
Within the next week, Seven & i Holdings Co.'s board aims to discuss any recommendations by an advisory committee that met Wednesday on leadership succession, according to people with knowledge of the matter. Loeb may not be the only one closely watching the company's next move. Pushing Japan's boards to be more shareholder friendly has been a pillar of Prime Minister Shinzo Abe's efforts to turn around the nation's economy.
Loeb has highlighted the head of the group's Seven-Eleven Japan Co. unit as a leading candidate to become chief executive officer of the company, while raising concerns about CEO Toshifumi Suzuki's health and the possibility that his son may succeed him. Loeb, founder of Third Point LLC, is also pushing the company to focus on running the convenience stores that are bringing in most of its profit while restructuring or divesting under-performing units.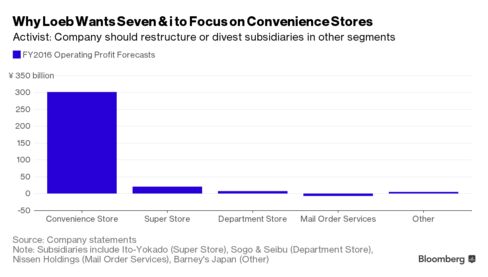 While Loeb has contributed to CEO changes at Sotheby's, Yahoo! Inc. and Dow Chemical Co., prevailing with Seven & i will require influencing a Japanese corporate board composed mostly of veterans who spent their careers at the company. A Jefferies Group LLC report last month that was critical of companies' selection of outside directors with backgrounds as academics and government bureaucrats also pointed to Seven & i as an example of a trend that risks undermining good governance.
Corporate Governance
"The source of corporate governance is the board -- it's the board's job to monitor management, hold them responsible and evaluate the company's strategy," Zuhair Khan, the Tokyo-based Jefferies analyst who authored the report, said in an interview. "Only 1 percent of Japanese companies have a good board structure, and less than 10 percent have an adequate, acceptable board structure. Ninety percent are just unacceptable."
A Seven & i representative declined to comment on outsiders' views of the company's management structure, meetings by its nomination and compensation committee or their outcome.
Seven & i fell 3.7 percent to 4,614 yen at 1:42 p.m. in Tokyo trading. The company's shares have declined about 14 percent since Oct. 26, the last day of trading before Japanese newspapers first reported Third Point's investment.
Loeb has praised Seven-Eleven Japan chief Ryuichi Isaka's management of the parent's core business. The convenience-store operator has boosted sales for 43 consecutive months, even as a sales tax increase during the period weighed on broader consumption in Japan. Seven & i earned about 90 percent of operating income through its convenience stores during the first nine months of this fiscal year.
Seven & i should focus on convenience stores, restructure its Ito-Yokado Co. unit and divest retailers Sogo & Seibu, Barney's Japan, and Nissen Holdings Co., Third Point said in a letter to the board Sunday.
Shareholder Interests
"Our goals are fully consistent with the Third Arrow of Abenomics: a focus on shareholder interests and returns, and engagement in forward looking corporate governance that should make Japanese companies more competitive and attractive investment opportunities," Loeb wrote.
Abe's government has set a shareholder-return target, backed a stock index that only companies with high profits can join and passed a stewardship code that enlists investors to engage in dialogue with firms about improving performance. Last year, the nation introduced governance rules that force companies to appoint at least two independent directors and get rid of cross-shareholdings, or else provide justification to shareholders.
The Jefferies review of Japan's corporate boards points to Seven & i as an example of how much progress still needs to be made. While the company has four outside directors, their backgrounds led Khan to award the board's skills the worst score among Topix 500 companies.
"Lack of skilled and knowledgeable candidates for outside directors isn't an issue just for Seven & i," said Dairo Murata, an analyst at JPMorgan Securities Japan Co. "All the Japanese corporates face the problem in general."
Seven & i fared better in other aspects, including diversity. The board has two non-Japanese directors, 7-Eleven Inc. President Joseph Michael DePinto and Scott Trevor Davis, a business administration professor at Rikkyo University. The company also has two female auditors, attorney Yoko Suzuki and Kazuko Rudy, a management professor at Ritsumeikan University.
Governance Push
Before challenging Seven & i, Loeb himself endorsed Abe's governance push, deeming the prime minister's approach a success when announcing an investment in Suzuki Motor Corp. in August. Months earlier, Japanese industrial-robot maker Fanuc Corp. said it would double its dividend-payout ratio and buy back stock after Loeb called on the company to boost shareholders returns.
Third Point announced a stake in IHI Corp., Japan's biggest aircraft engine maker, almost two years ago and urged the company to spin off land and property assets that Loeb said at the time were worth half the company's market value.
IHI said on Monday it would sell some of its land to Mitsui Fudosan Co. for 20 billion yen ($178 million). The shares surged more than 6 percent the following day, paring losses since Loeb announced his stake.
Just as IHI's decision came two years after Loeb's critique, he may need to wait out Seven & i, JPMorgan's Murata said.
"I doubt such a large company would react and quickly change direction," he said.
(
Corrects operating profit forecasts to billions of yen in chart.
)
Before it's here, it's on the Bloomberg Terminal.
LEARN MORE