It's Merger Mania for Canada as Deals Reach Record $83 Billion
About 18 deals were in excess of $1 billion through March 30

Canadian firms bought record $58 billion of foreign targets
Canadian companies hunting for growth abroad drove mergers and acquisitions to a record $83.4 billion in the first quarter of 2016, including an unprecedented four deals of more than $5 billion each.
The value of deals involving Canadian firms through March 30 surpassed the previous peak of $62.3 billion in 2007, which eventually became the busiest year on record for Canadian M&A, according to data compiled by Bloomberg.
"We've been in sort of a low-growth environment for quite a while and M&A has proven a way to boost earnings," Charles Emond, Bank of Nova Scotia's co-head of investment banking, said in an interview. "The market has been rewarding M&A growth quite successfully too."
The momentum in Canada comes despite a 6.6 percent year-over-year drop in global M&A over the same period. U.S. transactions fell 15 percent through March 30, the data show. In Canada, the quarter was notable for a number of large-scale transactions.
Mega Deals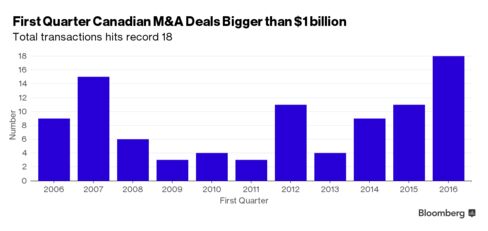 "Most of these larger transactions had been under way since last year and we continue to see strong interest in international acquisitions for Canadians driven by both the need for diversification and growth," Peter Enns, Goldman Sachs Group Inc.'s Canadian chief executive officer, said in an e-mail.
There were four deals in the first quarter in excess of $5 billion, including the largest: TransCanada Corp.'s $10.2 billion takeover of Houston's Columbia Pipeline Group Inc., the data show. Fortis Inc. also announced a $7.2 billion acquisition of ITC Holdings Corp. in February, while a group including Brookfield Asset Management Inc. and Canada Pension Plan Investment Board agreed to buy Australian port and rail operator Asciano Ltd. for roughly $6.7 billion. No previous first quarter on record had more than two deals of this size.
Adviser Boom
There were 18 deals in excess of a billion dollars through March 30 for a combined value of almost $69 billion -- more deals and at a higher combined value than any other first quarter on record.
The bulk of the transactions resulted from Canadians shopping abroad. Canadian firms acquired a record $58.4 billion worth of foreign targets this year, up from the previous peak of $38.9 billion in 2006 during the first quarter.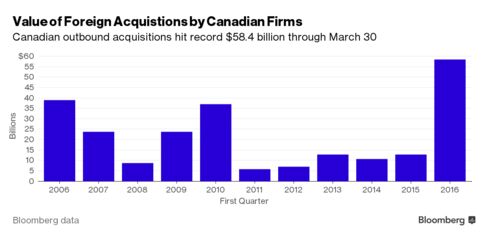 Larger deals, combined with the cross-border nature of many of the transactions, proved to be a boon for the big global banks. Goldman Sachs was the top financial adviser during the first quarter, followed by Lazard Ltd., which advised three U.S. targets acquired by Canadian companies during the quarter.
Foreign Banks
Wells Fargo & Co., which was the sole financial adviser to TransCanada on its acquisition of Columbia, ranked third, followed by JPMorgan Chase & Co., and Morgan Stanley.
"Several Canadian companies were successful in pursuing strategic U.S. acquisitions the first quarter," said Darin Deschamps, co-head of Wells Fargo Securities Canada. "It was great to see equity investors support such transformational deals."
The Bank of Nova Scotia was the only Canadian bank to crack the top 10 list, ranking seventh through March 30.
There is no reason to believe many of these trends won't continue in the other three quarters of 2016, Scotiabank's Emond said . "We like the overall picture," he said. "The pipeline is still very active."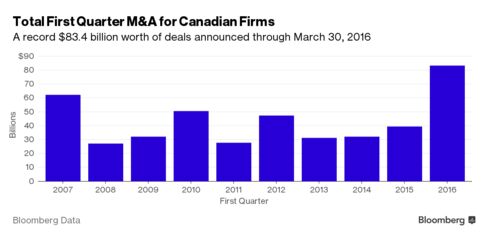 Cheap Debt
Pension funds and many Canadian corporations are sitting on a pile of cash, Emond said. Industries that take large amounts of capital investment like the industrial, energy and utility sectors were particularly busy M&A targets in the early part of the year, according to data compiled by Bloomberg.
Combine that with cheap debt, and targets that are too small in Canada, and there will likely be other large outbound M&A deals 2016, Emond said.
Goldman's Enns said he didn't expect to see a similar volume of big deals through the rest of the year. Instead, he expects to see a broader range of mid-sized transactions driven by foreign buyers acquiring Canadian assets because of their relatively low valuation. At the same time, he expects Canadian companies to divest smaller assets themselves as they position themselves as more global companies.
Before it's here, it's on the Bloomberg Terminal.
LEARN MORE