Cameron Pay Boost Set to Spur Efficiency at the Cost of Jobs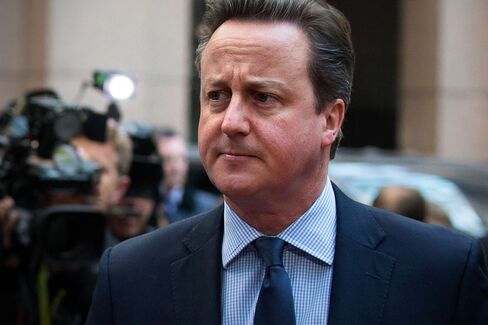 Firms may respond by investing in technology instead of hiring

Osborne cheers minimum-pay increase for 1.3 million workers
The U.K. economy will shed workers and gain efficiency with Friday's arrival of a higher minimum wage.
That's the forecast of most economists surveyed by Bloomberg News as Prime Minster David Cameron's government pushes up the base level of pay to 7.20 pounds ($10.35) an hour from 6.70 pounds, the biggest increase in eight years.
Seventy percent of economists polled predicted businesses will cut jobs as a result of the pay hike and 72 percent said the bump will boost productivity as firms invest in technology instead and workers put in more effort. An almost total lack of productivity growth has held back the economy, despite the jobless rate falling to a decade-low of 5.1 percent.
Twitter: David Cameron on Twitter
"Although basic supply and demand suggests that too-high wages will result in lost jobs, it is possible that slack wage growth could be a reason behind weak productivity," said Jane Foley, one of 21 participants in the survey and senior foreign-exchange strategist at Rabobank International in London.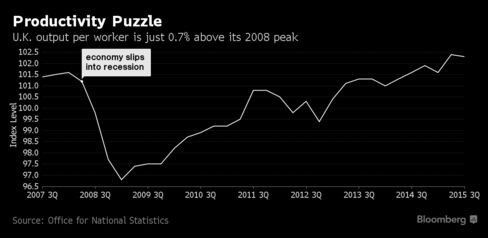 The compulsory increase in pay for over-25s was announced in July, prompting investors to sell the stocks of companies such as pub chain JD Weatherspoon Plc and grocer J Sainsbury Plc amid concern higher salaries would hurt their financial outlook. Some companies, such as WM Morrison Supermarkets Plc, reacted by raising pay earlier albeit at the expense of benefits.
'Act of Deception'
In a statement released by the Treasury, Chancellor of the Exchequer George Osborne said the new National Living Wage will benefit 1.3 million workers and "mark the end of the gender pay gap for some of our lowest-paid and hardest-working people."
The Labour opposition accused Osborne of an "act of deception," saying the pay increase fails to make up for cuts to in-work welfare benefits. "If the Tories were serious about supporting low- and middle-paid workers, they would reverse those cuts in full, as a matter of urgency," the party's work and pensions spokesman, Owen Smith, said in a statement.
Twitter: George Osborne on Twitter
The U.K. isn't alone in delivering or considering pay raises. Germany last year introduced its first minimum wage and has since seen unemployment fall to a record low of 6.2 percent regardless. Prime Minister Shinzo Abe has pushed for an increase in Japan, while President Barack Obama failed to convince the U.S Congress to back his call for a 24 percent hike.
The worry over bottom lines in Britain this week drew warnings from business groups for the government to tread carefully for fear its plan to lift the minimum wage to 9 pounds by 2020 could end up choking the labor market unless workers respond by raising the amount they produce to help cover the cost.
Productivity Puzzle
"For wage increases to be sustainable they must go hand-in-hand with productivity growth," said Josh Hardie, deputy director-general at the Confederation of British Industry. "If the national living wage doesn't get this balance right it will risk being unaffordable for many firms."
Britain's consistently poor productivity performance since the financial crisis has puzzled economists and policy makers alike. The country's fiscal watchdog said last month it had all-but given up waiting for a pickup as it downgraded the economy's growth potential and predicted higher borrowing.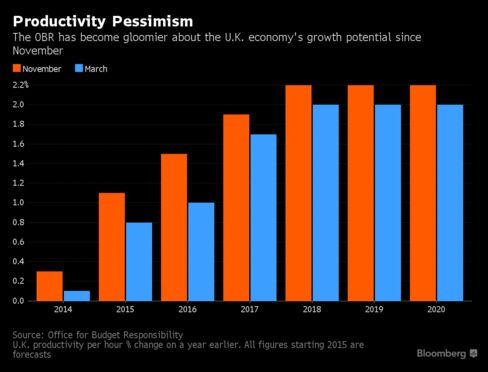 In an analysis published Friday, the Office for National Statistics said those set to benefit the most from the new minimum-pay rate are 25-29-year-olds, people over 60 and workers in "elementary occupations" such as cleaners and refuse collectors. The increase may also be felt keenly at very small firms, where 16 percent of workers were paid less than 7.20 an hour until today compared with 5.2 percent at very large businesses, it estimated.
Good Returns
Verity Brittain, who owns a wool manufacturing business, baa ram ewe, in Leeds, northern England, credits her 2009 decision to pay her workers more with allowing her turnover to reach 500,000 pounds this year.
"If you don't pay people fairly then they can't afford to give their effort and time to your business," Brittain, 39, said in an interview. "If you pay the bare minimum, you get the bare minimum, and the productivity to match."
How the economy reacts will have implications for the Bank of England. If companies pass on the cost to consumers that could spark higher inflation although perhaps not by enough to move the central bank, Bloomberg Intelligence analysts Dan Hanson and Jamie Murray said in a report on Thursday. Economists in the Bloomberg survey were split 50-50 over whether inflation would be ignited.
'Brexit' Vote
"To have a meaningful impact on the outlook for monetary policy, higher wages would need to spill further up the earnings distribution and be passed on to consumers through higher prices," Hanson and Murray said. "The likelihood of that is fairly low."
While BOE policy makers say inflationary pressures will eventually build unless productivity keeps pace with wages, all the signs are that they are in no hurry to raise the benchmark interest rate from a record-low 0.5 percent, where it's been since 2009.
The chance of pay being pushed higher across the board might grow if U.K. voters choose to leave the European Union in a June 23 referendum. A so-called Brexit would reduce the flow of immigrants who tend to drag pay down, according to David Owen, an economist at Jefferies International Ltd. in London.
Before it's here, it's on the Bloomberg Terminal.
LEARN MORE