Burt's Bees Goes From Big-Box to Upscale
The personal-care brand has a fancier reputation abroad.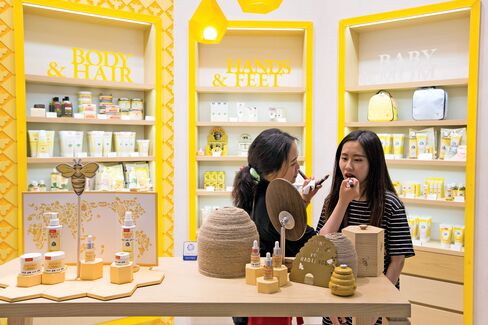 A best-selling item at the Burt's Bees store in Seoul's IFC Mall, a 0.6-ounce package of Res-Q ointment for cuts and scratches, sells for 18,000 won (about $15.47)—almost three times the U.S. retail price. A 113-gram tube of diaper cream goes for about $26; the average price in America is $10.
Located amid major retailers such as Armani Exchange, Jill Stuart, and Uniqlo, the store is one of 13 standalone boutiques the Clorox-owned brand operates outside the U.S. In Asia, where consumers place a premium on all-natural, gentle-on-the-skin beauty products, Burt's Bees has great appeal. "They're using less chemicals than some of the local brands here," says Lee Jee Ha, who shops for her Burt's Bees favorites, especially its baby oil, at any of several Seoul branches of South Korea's Olive Young drugstore chain. Burt's Bees is also found in upscale department stores such as the U.K.'s John Lewis and some drugstore chains in London.

At a time when large consumer-products companies are struggling with sluggish sales, Burt's Bees and the premium prices it commands overseas represent growth potential for Clorox. "This is a very profitable business internationally," says Chief Executive Officer Benno Dorer. The company, best known for its bleach and Hidden Valley ranch salad dressing, bought the small, Durham, North Carolina-based maker of lip balms and honey-infused creams and cosmetics for $925 million in 2007. At the time, the line was sold in five countries outside the U.S.; now it's in more than 40. It entered half of those markets in the last three years, Dorer says. The newest international outpost opened on March 9 in Tokyo's Shinjuku neighborhood.
Initially, Burt's Bees loyalists worried Clorox would strip it of its authenticity. But the brand has held on to its all-natural cachet and grown steadily. Its co-founder, Burt Shavitz, died in July 2015, but his likeness will remain on products, the company says.
Sales have increased at least twice as fast as those for the parent company overall. Today Burt's Bees accounts for 4 percent of Clorox's sales, which last year totaled $5.7 billion. In the last fiscal year, 82 percent of total sales came from the U.S.
Dorer is looking for 10 percent to 15 percent growth in Burt's Bees' sales, compared with 3 percent to 5 percent for Clorox overall. Oru Mohiuddin, a beauty analyst at Euromonitor International in London, says competition from such brands as L'Occitane and Weleda is strong, but having baby-care products and being priced in between mass and premium brands gives Burt's Bees a niche. And there's a lot of unmet potential, she says. In the U.S., where its largest distributors are big-box retailers like Walmart and Target, "the positioning was not to its best interest," Mohiuddin says. Given its natural ingredients, she says, the company could have marketed the brand as an upscale product early on. Clorox says selling through mass retailers has driven growth.
Whether U.S. customers would spend more for the balms and lotions is unclear. Candy Leung, in Hong Kong, is happy to pay a premium. She was introduced to the products while visiting family members in the U.S. "If I need it, I buy it."
—With Cynthia Kim and Annie Lee
The bottom line: When Clorox bought Burt's Bees for $925 million in 2007, it was sold in five countries outside the U.S. Today it's in more than 40.
(
Corrects where Burt's Bees is based in the third paragraph.
)
Before it's here, it's on the Bloomberg Terminal.
LEARN MORE