The Investor Who's Betting on Brazil's Corruption Scandal
Guild is betting Brazil stocks will gain 20% by 2018

U.S. stocks rallied in the two years after Nixon resigned
The corruption scandal rocking Brazil has led observers to come up with any number of historical comparisons that, they argue, offer insight into what lies ahead.
There's the influence-peddling scheme that forced the resignation two decades ago of President Fernando Collor de Mello. That one's a favorite. And then there's the 2002 election of Luiz Inacio Lula da Silva; it wasn't a scandal, true, but it sunk Brazilian markets into a similar funk. Others have latched onto the Clean Hands graft probe that roiled Italy in the early 1990s.
To one veteran investor, though, none of these events offer the right reference point.
Monty Guild Jr. says the real precedent -- from a stock picker's standpoint at least -- lies farther back in history: the Watergate scandal of the early 1970s. Guild's boutique investment firm was in its infancy back then and the crisis, which took down U.S. President Richard Nixon, was formative for him. The main takeaway? Buy stocks while they're cheap. After sinking amid the political turmoil, the S&P 500 surged in the months after Nixon resigned in 1974, gaining 28 percent over two years as political stability returned to Washington.
"We try to buy when blood is running on the street," said Guild, who as chief investment officer manages about $190 million in global equity funds. "This is a lot like Watergate, and after Watergate what happened? Where there's a crisis in confidence, costs go down and there's a huge opportunity."
While some 40 years apart, there appear to be several similarities between the episodes. Just like the investigation into the break-in at the Watergate hotel, Brazil's probe into kickbacks at the state oil company escalated over two years of deepening economic turmoil, eventually implicating President Dilma Rousseff. And like the infamous tapes that led Nixon to resign, a recording of Rousseff's conversation with her predecessor now has brought her one step closer to being impeached. Critics say the recording, obtained through a police wire tap, suggests Rousseff named Lula to her Cabinet to shield him from the probe.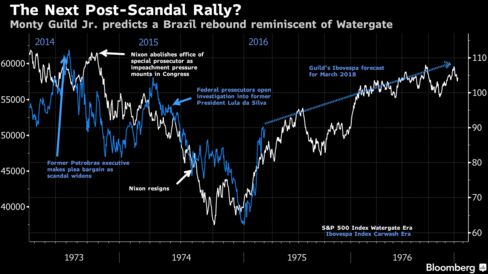 Guild now predicts Brazil's benchmark equity index will climb as much as 20 percent over the next two years while the currency could soar as much as 50 percent against the dollar. (This foreign-exchange forecast in particular is very much a minority opinion; the consensus call from analysts has the currency sinking 13 percent by 2018.) Guild began positioning himself for a rally in February, buying up shares of banks like Grupo BTG Pactual and Banco Bradesco SA. His biggest fund now has 12 percent of its money invested in Brazil, tied with Canada as the top holding.
Those investments have paid quick dividends. Growing speculation that Rousseff will be removed from office, paving the way for a government that can restore Brazil's finances, has already sparked a 29 percent rally in dollar terms this year that's made the Ibovespa the best-performing equity gauge in the world. On Thursday, Brazil's benchmark stock index fell 2.3 percent as of 2:30 p.m. in Sao Paulo.
During the recent rough patch for global stocks, Guild's benchmark fund has held up better than others. In the 12 months through January, it lost 5.2 percent. The MSCI global equity index, the benchmark for funds like Guild's, slumped 8.6 percent during that span.
The 73-year-old set up his firm, Guild Investment Management Inc., in 1971 above a Junior League thrift store in West Los Angeles, about a mile from its current location in Santa Monica. Two years later, the U.S. sank into a recession, posting back-to-back annual economic contractions on the eve of Nixon's resignation. Brazil's economy today is mired in an even worse slump, having shrunk 3.8 percent last year and forecast to contract another 3.6 percent in 2016.
"Everyone tolerates a certain level of corruption as long as there's a trickle down to the public at large," Guild said. "But when national growth ceases and becomes GDP shrinkage, they become irritated and more willing to toss the politicians out."
Walter "Bucky" Hellwig, senior vice president at BB&T Wealth Management, sees the attraction of the Watergate comparison but warns against over-analyzing it. What happens to prices for Brazilian commodity exports will play a key role in determining whether the recent stock rally is sustainable.
"I see an intermediate up trend in Brazil," said Hellwig, who helps manage $17 billion from his Birmingham, Alabama, office.
Rousseff, who denies allegations she doctored budget results and that her re-election campaign in 2014 received money from the Carwash scheme, appointed Lula in a bid to rebuild support in Congress. Lula was the most popular president in the country's history when he left office. But the move has instead emboldened her critics and further damaged her in the eyes of the public. Both Rousseff and Lula, who are members of the Workers Party (PT), have denied the Cabinet appointment was designed to obstruct the investigation into bribery at the state oil company.
On Tuesday, Brazil's biggest political party left the governing coalition, a major blow to Rousseff just weeks before she faces an impeachment vote. The lower house is expected to vote on her removal by mid-April. If approved there, the process moves to the Senate, which could decide by May whether to end her tenure. Rousseff has said she won't resign and that the push to impeach her amounted to a coup against democracy.
"Either the PT is ousted or Lula and his party become more reasonable and honest and stop stealing," Guild said. "In either case, Brazil is better off."
Before it's here, it's on the Bloomberg Terminal.
LEARN MORE