Tata's U.K. Steel Challenge Is Selling a Business Few Want
Steelmaking presents a `huge challenge,' Liberty House says

Chinese exports caused 55% plunge in steel price since 2008
Buyers for Britain's biggest steel operations may be tough to come by.
Faced with a market flooded with cheap Chinese exports, Tata Steel Ltd. is planning to sell its U.K. business after several quarters of losses and 2 billion pounds ($2.8 billion) of writedowns left the division with an asset value of almost zero. Steel prices have plunged to the lowest in a decade and in the U.K. higher wages and rising energy costs make the business harder to sustain.
"It will be very difficult to find a buyer for steel assets in the current market environment," Seth Rosenfeld, a London-based European steel analyst at Jefferies International Ltd., said in a phone interview. "Trying to ensure the long-term competitiveness of this plant will remain a real challenge for any upcoming owner."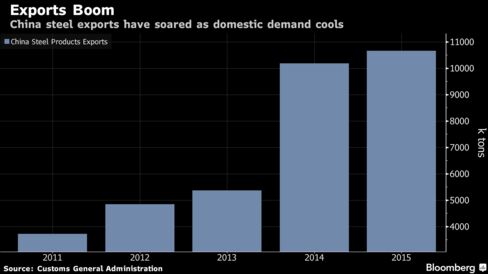 European steelmakers are struggling with prices that have fallen by more than 50 percent since 2008 and a glut in global supply. Tata's U.K. assets, once controlled by state-owned British Steel and bought for $12 billion a decade ago, include the giant Port Talbot works in South Wales. In total, the division employs about 15,000 people.
Huge Challenge
Liberty House Group said Wednesday that taking on the company's iron and steelmaking facilities would present a "huge challenge," according to a statement from Executive Chairman Sanjeev Gupta. The company, which is buying two of Tata's plants in Scotland, said it's interested in the U.K. processing operations.
"Our engagement will depend very much on what Tata and the government are prepared to do to help save these businesses," he said.
The risk of losing thousands of industrial jobs in an economically deprived region is already putting pressure on Prime Minister David Cameron. The government is considering "all options" and wouldn't rule out temporary state control as a way to ensure sufficient time for a buyer to be found, U.K. business minister Anna Soubry said in a BBC radio interview.
Not Nationalization
"I don't believe nationalization is the right answer," Cameron said in televised comments from his Downing Street office in London after presiding over a meeting of ministers on Thursday morning to discuss the crisis. "What we want to do is secure a long-term future for Port Talbot and for other steelmaking plants in the United Kingdom."
Cameron said the government is doing "everything we can" but pointed out that the steel industry "is in difficulty right across the world" with "massive overcapacity."
Trade union GMB, which represents British steelworkers, said the government should consider taking over the industry to protect jobs, while opposition Labour Party leader Jeremy Corbyn, who has also called for nationalizing the plants, said the Prime Minister had offered no solutions.
"Tata has let the whole of the U.K. steel industry down," GMB national officer Dave Hulse said in a statement. "We have to look at nationalizing the steel industry. Even over a short period of time this will be needed to protect the assets."
Mumbai-based Tata Steel, with operations in 26 countries, now has a market value of about $4.5 billion, or less than half of the amount paid for its U.K. business. The company has crude steel production capacity in the U.K. of about 11 million metric tons a year, according to its website. That's about 0.5 percent of global production, according to Rosenfeld.
"The outlook for the U.K. steel industry is clearly bleak," said Alessandro Abate, a London-based analyst at Berenberg Bank. Tata has "explained the turnaround is basically unaffordable and is net dilutive for them. There's a chance they may point to a shutdown."
Before it's here, it's on the Bloomberg Terminal.
LEARN MORE