Swedbank Chairman Fails to Win Re-Election Amid CEO Scandal
Swedbank's nomination committee withdrew its backing for Anders Sundstroem to continue as chairman after he failed to win enough support among shareholders.
The committee said it has "informed" Sundstroem "that he will not be proposed for re-election," according to a statement on Wednesday. It put forward Deputy Chairman Lars Idermark to take his place until the end of the annual general meeting in 2017.
The development follows the dismissal earlier this year of Chief Executive Officer Michael Wolf, who is now the subject of a criminal probe after a whistle blower complained of suspicious transactions. Wolf has denied the allegations and characterized Swedbank's actions as an "ongoing smear campaign."
The switch of chairman is "good news," according to Albin Raennar, head of market surveillance at the Swedish Shareholders' Association, which had lobbied to remove Sundstroem. "It's good the nomination committee finally takes its responsibilities and understands that it's not possible to propose him for re-election under the current circumstances."
Swedbank shares rose as much as 1.5 percent in Stockholm trading, and gained 1 percent to 175.6 kronor as of 9:10 a.m. local time. They have declined 3.6 percent so far this year.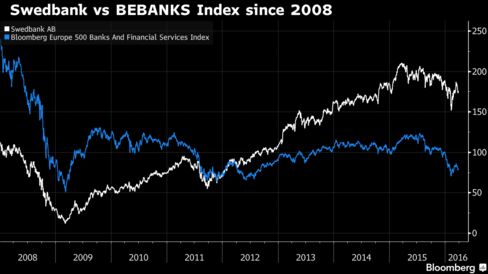 Idermark said he had accepted the nomination in order to "safeguard the bank, its brand and create the conditions for the next development step."
Wolf was fired in February. The announcement, which stunned markets and triggered a sharp decline in Swedbank's share price at the time, was followed by a revelation from Sundstroem that the bank had been informed by lawyers at the end of January of possible misdeeds by the CEO. Sundstroem said he had been unable at first to inform Wolf or the bank of the whistle blower's report, citing legal constraints, and declined to provide details of its contents. Wolf has said he welcomes an investigation, which he claims will prove his innocence.
Besides losing its CEO and chairman, Swedbank is also replacing its chief financial officer after Goeran Bronner quit earlier this month. In December, the bank said that Magnus Gagner Geeber, then the head of large corporates and institutions at the bank, was leaving after a series of articles last year in local media alleged Bronner and Gagner Geeber had made real estate investments that could be considered a conflict of interest given their leadership positions.
Before it's here, it's on the Bloomberg Terminal.
LEARN MORE