Metro Surges as German Retailer Unveils Plan to Split in Two
Shares jump as much as 14% in Frankfurt on demerger plan

Electronics unit will likely earn richer valuation: analyst
German retailer Metro AG plans to split its food operations from its consumer-electronics unit, creating two distinct listed companies that it said can capture growth better independently.
The separation would take place by the middle of next year and has the support of the company's main shareholders, according to a statement Wednesday. Real hypermarkets and Cash & Carry food wholesale stores will be spun off from the Media Markt and Saturn electronics chains.
Metro jumped as much as 14 percent in Frankfurt, boosting its market value to about 9.1 billion euros ($10.3 billion). The units have little overlap and will have more freedom to grow through acquisitions, Metro said. A separation would mark the next chapter in the evolution of the company, which in four years under Chief Executive Officer Olaf Koch has cut debt and divested assets including Kaufhof department stores. Sales at the electronics unit and Cash & Carry have grown over the past year, while Real has struggled.
"The investment case is much more compelling for two separate companies than for the combined group," said Bryan Roberts, an analyst at TCC Global. "The sense among investors is that Media-Markt would be worth a lot more separately and that that business is being held back by the rest of the group."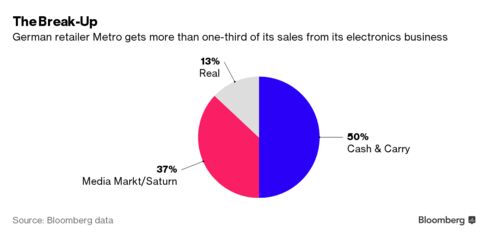 Metro shares traded 13 percent higher at 27.72 euros as of 1:44 p.m. in Frankfurt. At the day's highest price, the stock was up the most since October 2008.
"A demerger tidies up the investment story and it could free up both entities to participate in value-enhancing M&A," David Payne, an analyst at Nomura, said by phone. The company hit the acquisition trail last year, buying Classic Fine Foods Group, a Singapore-based supplier of gourmet products, for as much as $328 million. It has said it is looking for more deals, a process that may be accelerated by the demerger.
Stock of both separated companies will become acquisition currency, Koch said at a press conference.
Logical Step
The split is "the logical next step in the transformation of Metro" and will let investors choose between investing in electronics and food, Koch said on a conference call. "We're not forcing shareholders to take a combination any more."
Koch, who has held his post since the start of 2012, will head the wholesale and food unit, Metro said. The electronics unit, which represents about 37 percent of Metro's sales and about 30 percent of profit, will be run by divisional chief Pieter Haas. Both companies will get new names, Metro said, also signaling the imminent end of the Cash & Carry brand, which Koch described as "history."
Koch dispelled speculation in some German newspapers that Real may be sold, saying there's "no doubt" he'll hold onto the unit.
The split may help Metro in efforts to end a deadlock with Media-Saturn's co-founder, Erich Kellerhals, according to Bruno Monteyne, an analyst at Sanford C. Bernstein. Kellerhals, who owns a 22 percent stake in Media-Saturn, will potentially have a chance to buy the rest of the business after it is separated, Monteyne said in a note.
If he doesn't, "Media-Saturn shares will continue to have a discount for the Kellerhals minority holding," Monteyne wrote. "He currently blocks board appointment and will make those shares less attractive."
Kellerhals has "no potential to interfere" with the planned demerger as he's not a significant shareholder in Metro, Koch said at a press conference. The move won't affect Kellerhals' rights, a spokesman for his investment firm said by e-mail.
JPMorgan Chase & Co. and Rothschild are advising Metro.
Before it's here, it's on the Bloomberg Terminal.
LEARN MORE