Yogawear retailer Lululemon Athletica Inc. climbed in New York after fourth-quarter profit exceeded analysts' estimates, helped by lower costs and improvements to the company's supply chain.
Profit was 85 cents a share in the quarter ended Jan. 31, the Vancouver-based company said in a statement Wednesday. Analysts estimated 80 cents. Sales rose 17 percent to $704.3 million, compared with analysts' average projection of $693.1 million.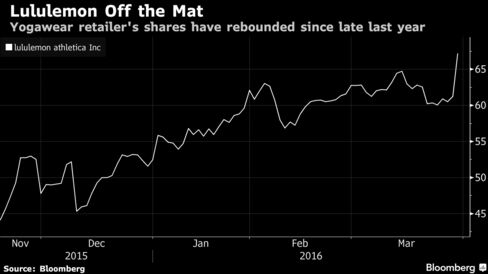 Lululemon's focus on efficiency and innovation is helping boost results, even as it encounters more competition from startups and the likes of Nike Inc. and Under Armour Inc. The company has gone after more hardcore athletes -- rather than just casual yoga fans -- and created more high-tech apparel. Still, Lululemon has had to clear a backlog of seasonal products that built up during the West Coast port strike, forcing it to rely more heavily on discounts.
The stock rose as much as 11 percent to $67.79 in New York, the biggest intraday gain since Jan. 12. Lululemon already had advanced 17 percent this year through Tuesday.
Supply Chain
Chief Executive Officer Laurent Potdevin has worked to fix the company's supply chain, reduce its reliance on expensive air freighting and increase sales through innovative products. The company's research-and-development center, Whitespace, has tested apparel in extreme environments in Alaska and has a lab on the Vancouver campus that can replicate different climates. The group helped conceive the company's new pants for women whose buttery soft fabric mimics the feeling of being naked.
By some measures, those efforts may be working. Sales at stores open at least a year rose 11 percent last quarter, including online orders. That exceeded the 8.5 percent increase analysts expected, according to Consensus Metrix.
Still, Lululemon's forecast for profit in the current year was muted. The retailer sees full-year earnings of $2.05 a share to $2.15 a share, falling short of analysts' estimates for $2.16. First-quarter earnings will be as much as 30 cents a share, the company estimated, missing analysts' projections for 37 cents.
The retailer opened its first Lululemon Lab store this week in New York. The location sells small batches of locally designed clothes.
Before it's here, it's on the Bloomberg Terminal.
LEARN MORE