European Banks Still in the Crosshairs as More Fines Loom: Chart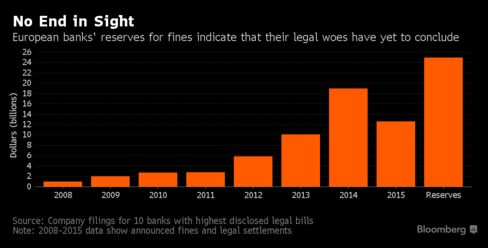 The 10 European banks with the biggest legal bills faced $12.6 billion in announced fines and settlements in 2015, down 33 percent from a year earlier, when BNP Paribas SA was hit with a record $8.97 billion penalty for sanctions violations. Their disclosed reserves for matters in 2016 and future years are almost double the amount spent last year. While lenders may soon reach settlements with U.S. authorities on sales of mortgage-backed securities, probes and civil suits related to interbank interest rates, U.S. Treasuries and foreign-exchange markets may extend their legal risks for years to come, according to Bloomberg Intelligence.
Before it's here, it's on the Bloomberg Terminal.
LEARN MORE