Telefonica's Alierta to Retire; Pallete to Take Over as CEO
Alierta has headed Spanish phone carrier for almost 16 years

Protege Pallete taking over amid challenges in Spain, Brazil
Telefonica SA Executive Chairman and Chief Executive Officer Cesar Alierta is stepping down after almost 16 years running Spain's largest telecommunications carrier, handing over the reins to his protege as the company struggles with sputtering sales and intensifying competition.
Alierta, 70, will remain on Telefonica's board, according to a statement Tuesday. He will propose that Chief Operating Officer Jose Maria Alvarez-Pallete replaces him. Pallete, 52, has been running the company's day-to-day operations and has been seen as Alierta's heir apparent since he was named to his current position in 2012.
Alierta oversaw more than $100 billion in acquisitions to build Telefonica into one of Europe's largest phone companies, expanding into countries including Brazil, Germany and the U.K. and more than doubling its revenue. Pallete is taking over as Telefonica seeks to revive its domestic business, reduce debt and reverse shrinking revenue from Brazil, its second-largest market.
Alierta "constantly sought international projection for the company and achieved it, with a total transformation of Telefonica," Maximino Carpio, who served as a board member and adviser for Telefonica over more than a decade, said in a phone interview. "With Alvarez-Pallete, I don't expect a big change. Over the past few years, the main strategic outlines have had Alvarez-Pallete's mark."
Alierta is the longest-serving head of a major European telecommunications company and the oldest CEO of a company in Europe's Stoxx 50 index. The bespectacled former financial analyst took over as chairman of the phone carrier in 2000 after having managed the transformation of Spain's tobacco company Tabacalera SA, now a unit of Imperial Tobacco Group Plc, into a private company.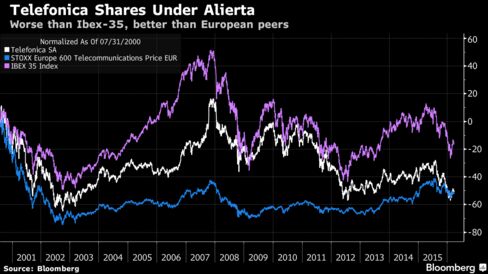 Under Alierta, the company's stock has lost about 51 percent of its value, in line with the Stoxx 600 Telecommunications Index. Telefonica underperformed peers when measured by total returns, which includes dividends, with Telefonica posting negative 4.6 percent compared with 0.5 percent for the industry as a whole.
Since his 2012 promotion, Pallete has wielded more decision-making power than his two predecessors, indicating that was being groomed as CEO. Pallete had previously overseen the carrier's European operations and he was a driving force behind strategic moves such as the sale of a stake in Telefonica's German unit and aggressive tariff cuts in Spain to stem customer defections. Telefonica's board is set to vote on his appointment as Alierta's successor on April 8.
Among Pallete's challenges is a Brazilian business hurt by tough competition and the local currency's drop against the euro over the past year. Telefonica is the biggest European telecoms investor in Latin America, where it is the largest or second-largest carrier in most markets.
Pallete, who aspires to run a marathon with each of his three sons after doing one with his wife a few years ago, joined Telefonica in 1999 as finance manager in the international division. It took him only seven months to rise to the top of the finance department, and the following year he oversaw the listing of Telefonica's wireless division. He remained finance chief until he was asked to oversee the company's Latin American operations in 2002.
Seen as down-to-earth, charming and shrewd, Pallete commuted from Sao Paulo to Madrid almost weekly to see his family during nearly 10 years in Latin America. A big fan of Twitter, he posts regularly about entrepreneurship and technology and rarely about his employer.
While Pallete's grooming had been taking place for years, Alierta had given few indications that he was preparing to step down.
"What do you do after 10 a.m. when you've retired? All my friends who have retired are crashing bores," Alierta said on the sidelines of an event in October 2014, when asked if he ever planned on retiring. At the time, he had already served longer than any other CEO in Europe's telecommunications industry.
Alierta started his professional life as a financial analyst at Banco Urquijo in 1970, and 15 years later founded brokerage Beta Capital, where he stayed until the government of Jose Maria Aznar tapped him to run Tabacalera in 1996. Alierta, a passionate reader of philosophy, has a degree in law, as well as a master's degree in business administration from Columbia University in New York.
Before it's here, it's on the Bloomberg Terminal.
LEARN MORE