Chipotle's Best-Case Scenario Is Recovery by 2018, Wedbush Says
Chain's current valuation reflects 'overly optimistic outlook'

Higher costs will weigh on profit even if sales rebound
Chipotle Mexican Grill Inc.'s sales won't rebound from the chain's wide-ranging food-safety crisis until 2018 at the earliest, and the company still will suffer from lower profitability even then, Wedbush Securities analyst Nick Setyan said in a research note.
Arguing that Chipotle's current valuation reflects an "overly optimistic outlook" for its recovery, Setyan lowered his price target for the shares to $400 from $450 and cut his rating on the company to the equivalent of a sell from neutral. Chipotle averaged sales of more than $2.5 million per restaurant before the crisis, and returning to that level by 2018 is "the best-case scenario, not the base-case scenario," Setyan said. Chipotle's shares fell as much as 4 percent to $456.51 in New York.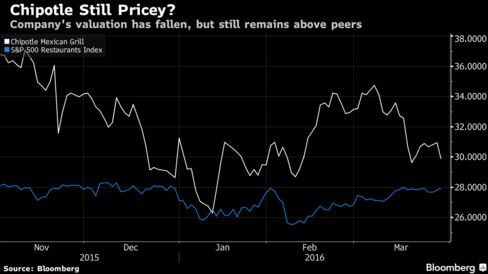 "Given the most recent sales disclosures, we do not currently have visibility into the level at which sales have bottomed out (even including promos), let alone visibility into any trajectory at which sales made recover moving forward if there is no promotional activity," Setyan said.
Even if Chipotle's sales rebound by 2018, the company still faces higher operating costs from its expanded food-safety measures, which will erode margins, Setyan said.
Food-Safety Crisis
Chipotle has been reeling from the crisis since early November, when the Centers for Disease Control and Prevention announced an investigation into an E. coli outbreak. That brought attention to previous foodborne illnesses earlier in the year. Norovirus outbreaks tied to restaurants in Massachusetts have also tarnished the company's reputation.
Chipotle executives, while acknowledging that 2016 will be a tough year, have said that the chain can regain its sales and margins. Chipotle's sales fell for at least the third straight month in February, dropping 26 percent. March has been rough, too: Sales had started to recover, but plummeted again after employees at a Boston-area restaurant got sick with norovirus.
Earlier this month, Chipotle said it expects to post a loss in the first quarter. The company had previously predicted it would break even for the period, but said that it was spending more on marketing, legal costs and food safety.
Before it's here, it's on the Bloomberg Terminal.
LEARN MORE