Last week during the New York Auto Show, Cadillac hosted a press dinner on the 15th floor of its new headquarters in TriBeCa.
Model-waiters passed sushi and poured Prosecco. Massive square-paned windows framed lower Manhattan, cast with pinks and oranges washing into a violaceous sky.
It was beautiful. But it was one of those things you had to see live to appreciate. Which makes it a lot like GM's new luxury sedan, the 2016 Cadillac CT6.
Let me explain.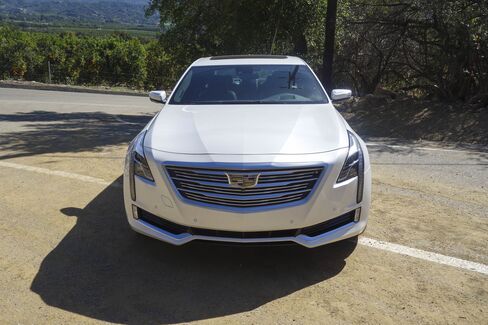 Narrow Pathway to Success
The CT6 is an entirely new model, build on a different platform in Hamtramck, Mich. It does not replace the similarly named midsize CTS sedan that Cadillac continues to sell. (New-era Caddies use a number system.)
At 204 inches long, the CT6 is noticeably longer and wider than such other midsize premium sedans as the Audi A7 and Mercedes E-Class, but it remains several inches shorter (with less of a luxury edge inside) than proper town cars like the Mercedes S-Class or Audi A8. It's a fine line between trying to be all things to all people (self-defeating) and hitting that magic automotive sweet spot that makes something a great all-around sedan (BMW 3-Series, say). To achieve the latter, Cadillac must execute perfectly.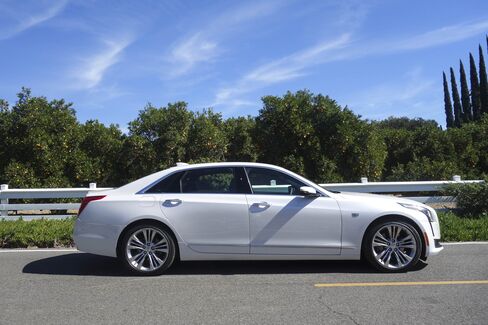 After driving an $84,960 CT6 Platinum AWD through California's West Hollywood, Malibu, and Ojai for a week, I believe GM has done just that.
I don't mean that Mercedes and BMW buyers will suddenly go American; that's an incredibly difficult, altogether different battle. But Cadillac has produced a solid product that's well-executed in grand old Caddy style, with more creature comforts than the CTS-V and better handling and athleticism than the XTS. (Or, if we look to other brands, the Acura RLX.)
Cadillac has talked plenty about its turnaround plan, but we all know that if you don't have a solid product, you don't have anything. With the new CT6, Caddy has something.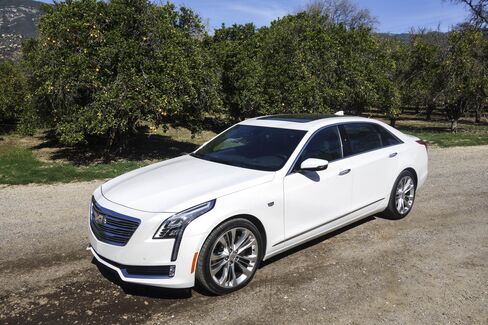 Slow Burn
That "something" is not an immediate winner.
When I first saw photos of the CT6, I yawned and went back to my latte. Caddy produced something my granddad would still recognize as a Cadillac. Great. Dinner conversation among a high-placed Caddy executive, a New York Times writer, and me that night loosely confirmed that opinion: The CT6 doesn't photograph particularly well and it can look boring and washed-out in print, especially in white models such as the one I drove.
Still, we three agreed that once you can sit for a moment in front of the CT6 and drink in the subtle curves along the hips or the arches over the wheels—or once you watch it in motion, gaining speed—the CT6 assumes a new dimension. It's like that acquaintance who garners little notice upon first meeting but who, upon repeat encounters, reveals intelligence, honesty, creativity, and mettle. The CT6 is a slow-burn kind of guy.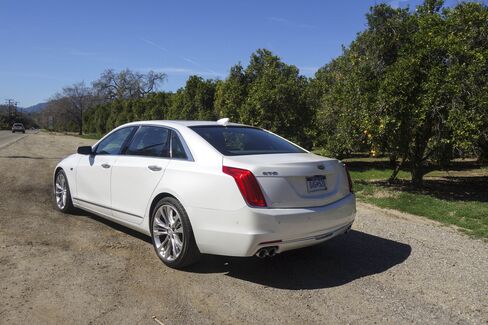 While the car has a handsome, long, sloping roofline and a nice, tall belt line, the vertical taillights and bright LED headlamps that frame the hood (and recall the long fins of vintage Cadillacs) prove to be the most arresting thing about the car. So-called "concierge lighting," a system that receives a signal from the key fob and activates the headlamps, outside mirrors, and light accents on the door, is a cool feature, if soft and subdued. Even the wide lateral grill and chrome-like accents along the windows and aluminum body come off as clean and stolid, not excessive.
This is a good thing. The CT6 feels honest. You can add special "crystal tricoat" paint options ($500) if you want, but I'll refrain. Conservatism looks nice here.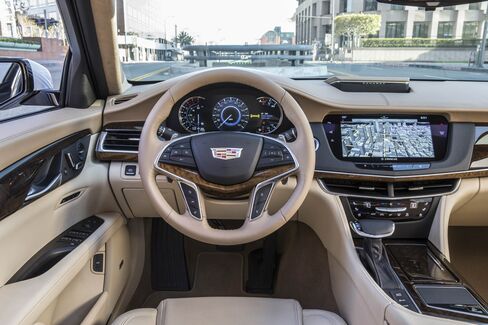 Worthy Upgrades
Cadillac has ensured that the interior of the car follows this philosophy.
The updated CUE system is faster (previous iterations of this touch-screen entertainment device proved annoying, at best), and a new 10.2-inch HD screen in the center of a dashboard has buttons to control the climate, entertainment (ApplePlay, yes), and navigation systems inside. Video screens on the backs of the two front seats come standard in the "Platinum" edition I drove. That version also includes seats with adjustable lumbar support and tilting cushions and 15 massage settings, plus both heating and cooling elements. Get the Platinum. You're buying a Cadillac. It's worth it.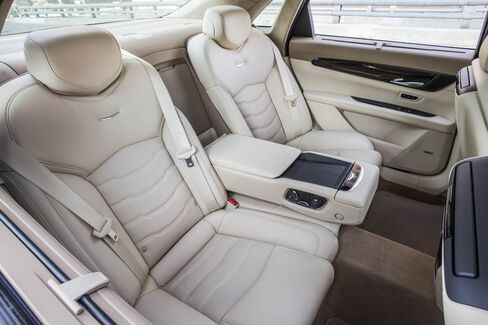 Some nitpicks: The mouse-shaped shifter looks weird; the touchscreen and related touchpad behind the shifter still feel retrograde to use because they sometimes respond slower or less sensitively than does, say, an iPhone; the extensive stitching all over the seats is more distracting than alluring. (A rare stray—and misfire—from the conservative bent.) Otherwise, the space in the back seat feels generous but not vacuous. The headroom and legroom are roughly on par with the rest of the automotive segment.
Behind the steering wheel, GM has added night vision, automatic parking, and a rearview camera (optional) for the mirror. (Flip a switch, and the rearview mirror turns into a camera with a super-wide panoramic field view behind you.)
These are all things that help enhance the ride without getting in the way, no small feat for a segment that often throws "advanced" technologies at you for no apparent reason beyond listing on the spec sheet. If you want to feel wrapped in an American-made luxury driving experience, you will be pleased.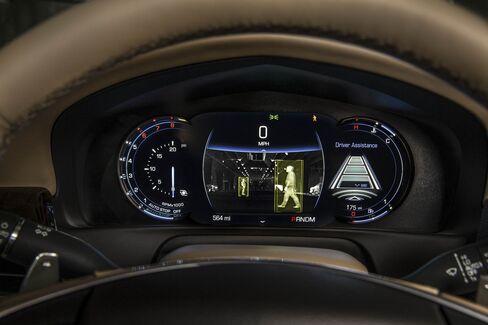 And the Performance?
Oh yes, the driving experience. The fact I'm mentioning it last should tell you something.
When it comes to aggression and precision, the CT6 is no M3 sedan, nor is it even a 5-Series. It's certainly not a CTS-V. Performance is not its main selling point, anyway. (You're fooling yourself if you think otherwise.)
For one thing, it's larger than all the other cars. It can also cost more than those BMWs—$53,495 for a base CT6 and $84,960 for the Platinum AWD version I drove. The way it drives is stable, reliable, and tight enough. (It's not German-tight, but it's better than what you'll feel from Lexus, Acura, and Infiniti.) It's fine: Nothing to see here, keep moving.
The standard model comes with a 2.0L 265-horsepower, four-cylinder engine. A 3.6L 335-hp V6 engine or 3.0L Twin Turbo 404-hp V6 engine (with 400 pound-feet of torque) are also available. Expect a twin-turbo V8 later this year. This addition will lead to significant gains in overall performance.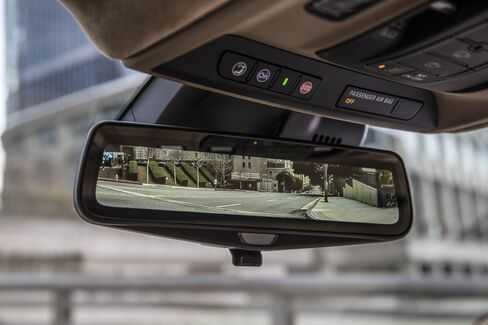 At 3,657 pounds, the car weighs nearly 1,000 pounds less than the S-Class, A8, or 7-Series, with sufficient fuel efficiency benefits to achieve a respectable 25 miles per gallon of combined driving on the standard engine. GM's unique magnetic air suspension balances its relative featherweight nicely, with low body-roll and just enough give around corners.
In the CT6, driving up Highway 101 to Ojai became a tour in placidity. The all-wheel drive has a four-wheel steering system called Active Rear Steering, which turned the back wheels during direction changes and aided the pacific feel. (Sport mode adds 80 percent of the torque to those rear wheels; the difference was not profound.) The eight-speed automatic transmission runs smoothly and well, with no characteristics outstandingly good or bad.
All this may sound like a #burn burn, but it's really just part of that slow burn—in a good way. Granddad would approve. You may be surprised. Just make sure you take the time to experience this gentle machine in real life.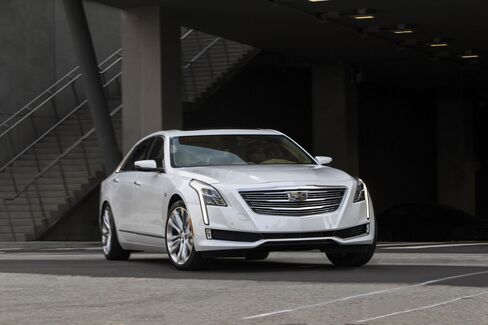 Before it's here, it's on the Bloomberg Terminal.
LEARN MORE