China Industrial Profits Rise 4.8%, Ending 7-Month Losing Streak
Oil processing, electrical machinery, food companies led gains

'Industrial sectors still face many difficulties,' NBS says
Chinese industrial profits snapped a seven-month losing streak in the first weeks of this year, while the data also showed companies fell deeper in debt while inventories grew.
Industrial companies' profits climbed 4.8 percent from a year earlier to 780.7 billion yuan ($120 billion) in January-February, the National Bureau of Statistics said in a statement Sunday. Oil processing, electrical machinery and food companies led gains as 28 of 41 industry groups posted profits, NBS said. Profits fell 2.3 percent in 2015.
"Industrial sectors still face many difficulties," NBS officials said in an explanatory statement. "First, there's a sharp decline in profits for mining and raw materials. Second, inventory pressures remain quite large." Profits also benefited from a low-base effect compared with the same period last year, they said.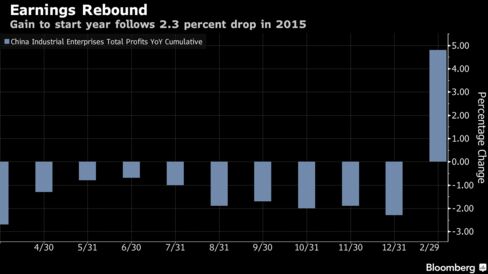 Top Chinese officials at the National People's Congress in Beijing this month renewed their pledges to continue overhauling inefficient state-run businesses, with Premier Li Keqiang vowing in his annual press conference that reforms won't spur mass layoffs and don't imperil the government's plan to keep economic growth above 6.5 percent this year.
Debt at Chinese companies increased 5.5 percent during the period to 54 trillion yuan, NBS said. Businesses had 16.5 days worth of finished goods inventory at the end of February, 2.3 days more than the end of December.
Industrial profits fell 4.7 percent in December from a year earlier, a seventh straight drop. Profits tumbled 8.8 percent in August, the most in at least four years.
— With assistance by Clement Tan, and Jeff Kearns
Before it's here, it's on the Bloomberg Terminal.
LEARN MORE