Professional rowing offers little, if any, of the riches that dominate modern sports. So what do the competitors do after putting away the oars?
If what they study is any guide, the answer is clear: head to Wall Street or the City of London. During the past 15 years, business- and finance-related studies have dominated, representing 24 percent of the participants, according to a Bloomberg analysis of data provided by organizers of the race, which occurs Sunday. Second is biology and medicine, at 14 percent and third is engineering and environment at 13 percent.
What's not so popular is also clear: fine art, classics, English and philosophy.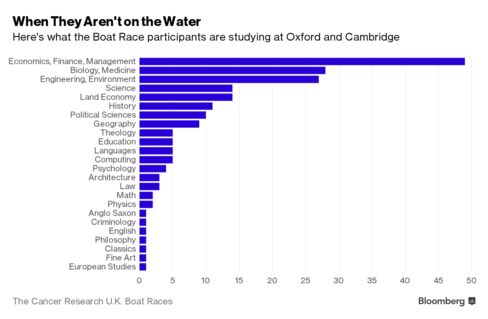 Former participants now plying the City of London can be found at most of the biggest banks, including Goldman Sachs, Barclays and UBS.
While Britain still provides the most rowers - and dominates this year's competition by far - in the last 15 years other nations have made inroads. The U.S. has become the second most-represented nation, followed by a tie between Germany and Australia.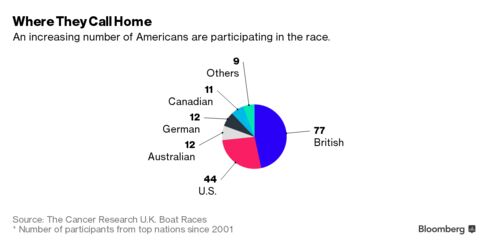 Started in 1829, the 6.8 kilometer (4.2 mile) boat race along London's River Thames is among the oldest sporting events in the world, with thousands jamming the riverbanks and bridges to watch. Cambridge leads the series, 81-79, although Oxford has won for the past three years. The men's race begins at 4:10 p.m. Sunday, with the women starting an hour earlier.