Will Batman v Superman Be the Billion-Dollar Blockbuster Warner Bros. Needs?
To shake off its malaise, Warner tries a forced marriage of DC superheroes.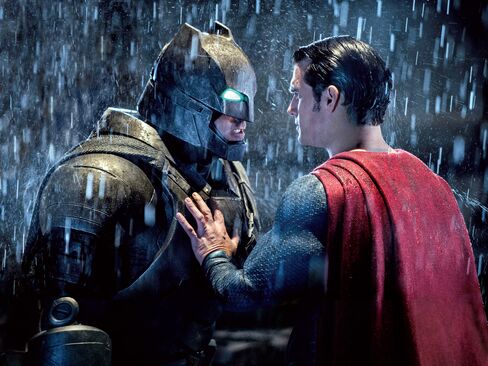 Three days before its March 25 opening, Batman v Superman: Dawn of Justice was met with some harsh early reviews. The critics weren't kind to the Caped Crusader (Ben Affleck), the Man of Steel (Henry Cavill), or director Zack Snyder. One saved his venom for an unseen villain, the studio that made the film, Warner Bros. The movie is "a sleek, stylish commercial by a studio desperate to birth a new cash cow post-Harry Potter," wrote the Miami Herald's film critic.
For Warner, more is riding on the movie than on any other single release this year. It's important not only for the money it could pull in, but also because it could be a steppingstone to cultivate a dedicated audience for future films from its DC Comics franchise. "Success is giving the fans an experience that's so enjoyable and entertaining for them that we deepen their commitment to DC as a whole, and so the movies keep growing,'' says Greg Silverman, a co-head of Warner's film studio.
The studio estimates the film's opening-weekend box-office receipts will bring in $100 million to $140 million domestically and an additional $200 million from 61 other countries. Analysts at BoxOffice.com on March 23 raised their forecast for the weekend to $179 million, from $159 million five days before, because of strong presales, despite the reviews. Those numbers—some analysts predict even bigger returns—could help Warner shake off its 2015 movie losses. Among its notable flops last year was Pan, a retelling of the Peter Pan fairy tale, which analysts estimate generated more than $100 million in red ink, according to the Hollywood Reporter.
For Batman v Superman to be as profitable as Walt Disney's Marvel movies or Warner's own Dark Knight Batman movies, which had an average profit margin of 44 percent, it would have to gross $1.15 billion worldwide at the box office, assuming production and global marketing costs of about $400 million, estimates Wade Holden, an analyst at SNL Kagan. That compares with a global gross of $1.5 billion for Disney's first Avengers movie and $668 million for the Superman origin story Man of Steel.
"This is a big roll of the dice," says Jonathan Kuntz, a film historian who teaches at the University of California at Los Angeles. Success could lead to a whole world of spinoffs and sequels; failure, he says, "spells real trouble."
Warner's last superhero-driven smash was Christopher Nolan's The Dark Knight Rises in 2012, which, according to Box Office Mojo, set an opening-weekend record for the franchise with $160.9 million in ticket sales. The studio's Harry Potter box-office fortunes have dried up; so, too, have the riches from the Hobbit films. As a result, Warner has fallen far behind Disney and Universal Studios in box-office rankings. In 2015 the two combined commanded about 42 percent of the global box office, compared with only 14 percent for Warner.
After a management shake-up in 2013, Kevin Tsujihara, at the time the head of Warner Bros. Home Entertainment, was named chief executive officer and chairman of Warner Bros. In 2014 he outlined a six-year plan to release at least 10 superhero films from the DC Comics library. The "DC Extended Universe," along with Lego and at least three Harry Potter prequels, based on works by author J.K. Rowling, are the cornerstones of the studio's slate over the next four years.
It will have to contend with Disney, which since 2012 has been beating Warner at the superhero franchise game. The Mickey Mouse studio has churned out megahit after megahit, drawing on a seemingly endless stable of Marvel characters, from Iron Man to Captain America. The first of four Avengers movies, released in 2012, was the biggest movie of that year globally.
That's intensified the pressure on Warner, says Barton Crockett, an analyst at FBR Capital Markets. The studio's in a "never-ending quest to make DC Comics more like Marvel in terms of commercial success." DC Comics has been part of the Warner family since the '60s; Disney bought Marvel in 2010.
Pitting what arguably are the world's best-known superheroes against each other, Warner is taking some cues from Disney. The new movie features cameos from Wonder Woman and Aquaman, who are scheduled for their own headline features later in the decade. Two Justice League movies will unite Superman, Batman, and Wonder Woman with the Flash.
But superheroes may have worn out their welcome, as industry analysts warn of an oversupply. Still, Time Warner CEO Jeff Bewkes has said Warner's profits in 2016 would be led by the studio. "He's going to have a hard time seeing that happen if this movie doesn't work," Crockett says. "It has the potential to be the biggest movie for Warner Bros. all year. And if it doesn't work, the credibility of the team at Time Warner from Jeff Bewkes on down is going to suffer."
The bottom line: Batman v Superman will need to gross about $1.15 billion worldwide to be as profitable as Disney's Marvel movies.
Before it's here, it's on the Bloomberg Terminal.
LEARN MORE