Wall Street Got Bullish on Power Deals After Pepco Approval
Exelon-Pepco merger approval in D.C. took analysts by surprise

Takeover targets Cleco, Piedmont among stocks that gained
Pepco Holdings Inc.'s stock rallied after its takeover by Exelon Corp. won the last stamp of approval from Washington regulators.
So did shares of Cleco Corp. And Piedmont Natural Gas Co. And Questar Corp. and Empire District Electric Co. -- albeit briefly after Wednesday's vote.
Call them sympathy trades, of utilities that are also being bought. Washington's approval of Pepco's takeover ended nearly two years of regulatory setbacks and boosted Wall Street's confidence in more of these deals getting done, according to analysts.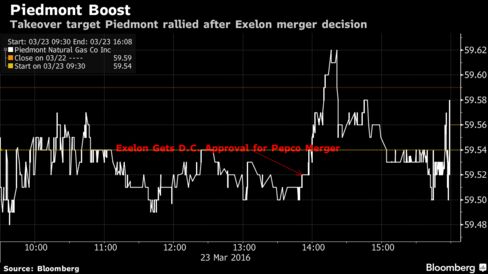 "It seems counter-intuitive -- that one deal would affect another," Tim Winter, an analyst for Gabelli & Co Inc., said in an interview. "But investors might put a little greater odds on other transactions going through using this one data point."
Exelon's win came after Washington's utility regulators had already twice rejected its $6.8 billion bid to buy Pepco. Those earlier denials had investors questioning whether other multibillion-dollar utility mergers being proposed across the country would face similar challenges. The tide is turning with Wednesday's approval, as well as Macquarie Group Ltd.'s plan to return before Louisiana regulators and make its case for buying Cleco.
Deal Spread
The spread between Exelon's offer price for Pepco and Pepco's share price, a gap traded by those betting on whether the deal will close, narrowed on Wednesday to the smallest since August. "Investors were not expecting this" approval, said Kit Konolige, a Bloomberg Intelligence analyst.
Late Wednesday, Exelon and Pepco said they closed the merger and Pepco's shares were suspended Thursday.
In Louisiana, regulators will reconsider the Macquarie-led, $3.4 billion bid to buy Cleco at a meeting on March 28 after initially denying it. Cleco's shares rose 2 percent to close at $47.50 at the end of trading in New York.
Algonquin Power & Utilities Corp. is looking to gain regulatory approval for its $1.5 billion takeover of Empire District. Duke Energy Corp. is seeking permission to buy Piedmont Natural Gas for $4.9 billion, and Dominion Resources Inc. is applying for the purchase of Questar.
Decisions on these takeovers will ultimately "depend on the individual circumstances of each deal," Winter said, but "commissioners are going to read headlines and see that another deal broke and it's going to be at least an input."
Before it's here, it's on the Bloomberg Terminal.
LEARN MORE