Under the Hood of Korean GDP, Park's $30,000 Goal Proves Elusive
Here's a key takeaway from South Korea's gross domestic product report released Friday: Slowing economic growth and a weaker currency have pushed President Park Geun Hye's goal of $30,000 per capita income outside her reach, at least for now.
The figure for 2015 dropped to $27,340, compared with $28,071 in 2014 as GDP expansion slowed to 2.6 percent and the Korean won averaged about 7 percent less than a year earlier, data from the central bank showed.
Park said in early 2014 that with economic reforms, Koreans would enjoy an income over $30,000 within three years. While her five-year term doesn't end until February 2018, members of her ruling Saenuri party face a general election for the national Assembly next month.
"Achieving the $30,000 goal would be an event that any Korean administration would earn praise for," said Park Jong Kyu, a research fellow at the Korea Institute of Finance. "It would mean that both the economy and social system as a whole are effective and well-established."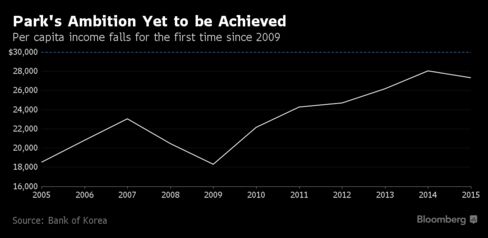 Per capita income is calculated by dividing nominal gross national income by the nation's population. In local currency terms, it rose 4.6 percent to 30.9 million won in 2015.
If the exchange rate remains stable and GDP grows about 3 percent annually, the $30,000 goal could be achieved in 2017, said Kim Chang Bae from the Korea Economic Research Institute.
Before it's here, it's on the Bloomberg Terminal.
LEARN MORE