Russia in `Near-Zero' Funk as Calls for Monetary Easing Persist
Slowing inflation gives grounds for rate cuts, Ulyukayev says

Central bank says easing will be in line with drop in prices
Top Russian officials are continuing to dwell on the prospects of interest-rate cuts, undeterred by the central bank's stance that it's putting the brakes on monetary easing for longer.
While a decline in gross domestic product has been over for nine months, its growth remains "near zero," Economy Minister Alexei Ulyukayev said in Moscow on Thursday. Annual inflation may end the year below 8 percent, and that affords a "substantial opportunity" to reduce the benchmark and lower costs for the final borrower, he said. Efforts to contain the budget deficit will create more openings for the Bank of Russia to ease policy, Finance Minister Anton Siluanov said at the same event.
A second year of recession and gains in oil and the currency haven't yet tipped the balance in favor of monetary easing because inflation expectations remain stubbornly high while uncertainty continues to roil commodity markets. The central bank kept its key rate at at 11 percent last week for a fifth meeting and warned that its "moderately tight" policy may last longer than previously planned.
Rates "will fall with a decrease in inflation and inflation risks," Bank of Russia Governor Elvira Nabiullina said at the conference. Even with the benchmark on hold, longer market rates have decreased, "which speaks to greater confidence of economic agents that inflation will decline as a result of our policy."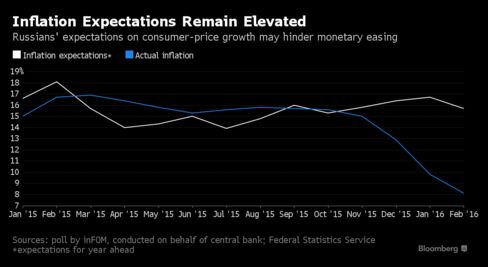 Ulyukayev declined to say how fast the key rate may be cut or predict the benchmark's level at year-end, saying the central bank is alone in setting policy.
Oil, Ruble
With crude prices having partially recovered after dipping below $30 a barrel this year, the ruble has also advanced from January's all-time low. It retreated for a second day on Thursday as oil fell, trading 0.8 percent weaker at 69.3 against the dollar and extending Wednesday's 1.8 percent decline -- the sharpest slide in a month. Five-year government notes fell, pushing the yield eight basis points higher to 9.32 percent.
The Bank of Russia's baseline scenario assumes Russia's main export blend Urals will average $30 in 2016, rising gradually to $40 by 2018. Ulyukayev said this year's budget amendments will be based on an average price of $40 a barrel.
'Risks Remain'
While price growth has slowed for six months, it's still more than twice the bank's medium-term target of 4 percent. Inflation will be less than 6 percent a year from now, although "risks remain" that the rate may exceed its goal in late 2017, the central bank said last Friday.
Among reasons for lingering inflation risks, policy makers have pointed to "some uncertainties surrounding budget configuration" in their statement. Russia must adapt the budget to new realities, Siluanov said on Thursday. The fiscal gap this year will reach about 3 percent of GDP at an average oil price of $40 a barrel, he said.
The central bank said the economy's adjustment to low commodity prices will continue, with GDP forecast to shrink 1.3 percent to 1.5 percent this year. On a quarterly basis, the economy will resume growth between late 2016 and early next year, it said. The economy contracted 3.7 percent last year.
The outlook for this year was worsened in the central bank's updated forecasts issued after the rate meeting. Last quarter, GDP probably declined as much as 2.5 percent from a year earlier, it estimates.
"The Russian economy bottomed last year, giving reason for optimism in the medium term," Vladimir Tikhomirov, chief economist at BCS Financial Group in Moscow, said by e-mail Thursday. Even so, "a few more months" are needed for it "to rise from contraction to mild expansion."
Before it's here, it's on the Bloomberg Terminal.
LEARN MORE