Vanguard Extends Lead Over Pimco as Top Treasuries Holder: Chart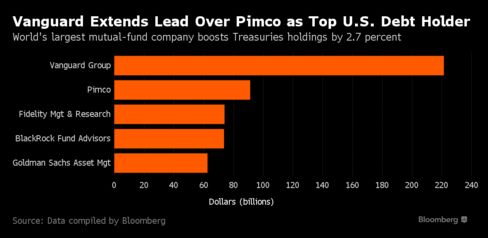 Vanguard Group Inc., whose $221.4 billion of Treasuries makes it the largest private owner of U.S. debt, boosted its holdings by 2.7 percent, according to data compiled by Bloomberg from the most recent filings. Pimco cut its holdings by 6.6 percent to $91.3 billion. Of the top five private holders of the debt, the biggest jump in ownership came from Goldman Sachs Asset Management, which increased its holdings by 42 percent to $62.7 billion.
Before it's here, it's on the Bloomberg Terminal.
LEARN MORE