Polish Central Bank Finds Unity as Newcomer Sees Longer Halt
Easing could be `more harmful than helpful,' Kropiwnicki says

Poland's benchmark has been on hold for a year amid deflation
For a central bank known for its cacophony of views, the rate-setting panel in Poland is probably more united than it's been since its establishment 24 years ago.
After a revamp this year in which all but two of its 10 members were replaced, Jerzy Kropiwnicki is the latest newcomer to speak in favor of staying the course. Governor Marek Belka, whose term ends in June, also said Tuesday that his "probable" successor Adam Glapinski is likely to stick with the same policies.
"A rate cut in the current environment would mean entering uncharted territory, running the risk of consequences more harmful than helpful," Kropiwnicki, 70, said in an interview in Warsaw. "Abroad as well as at home, there's too much ambiguity, so I wouldn't be inclined to vote for any rate change in such circumstances."
Poland is sidestepping a renewed push for monetary stimulus from the euro area to Hungary even as traders continue to bet on additional easing over the next half year. Meeting for the first time in its new makeup this month, the Polish central left its benchmark at a record-low 1.5 percent, while the nation's longest and deepest period of deflation keeps up the pressure on its year-long pause in policy.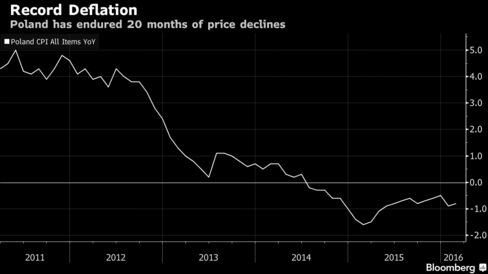 Board Changeover
All eight new policy makers were appointed either by the ruling Law & Justice party, or by its ally, President Andrzej Duda. The party, which swept to power in 2015 with wins in presidential and parliamentary elections, vowed before the nomination process to pick central bankers who'll favor more monetary easing to spur growth and allow Poland to reduce unemployment and boost wages.
With most newcomers so far speaking out against cuts, Jerzy Zyzynski has been the only one to suggest that he sees some room for a rate reduction. Even so, he told news service PAP on March 18 that the space for easing is "limited" and other measures should be debated by the central bank to help stimulate the economy.
Six-month forward-rate agreements, or derivatives forecasting the level of future interest rates, were 17 basis points below the Warsaw Interbank Offered Rate at 9:29 a.m. in Warsaw, indicating traders are expecting less than a quarter-point cut, according to data compiled by Bloomberg. The zloty is the second-best performer against the euro in the past month among its peers in developing Europe with a 3 percent gain.
Longer Deflation
The latest inflation and economic projection by the central bank's staff, published two weeks ago, sees price declines extending through the third quarter, cutting this year's forecast to an average of minus 0.4 percent from 1.1 percent. It also showed that the index will only come near the 1.5 percent lower end of the central bank's target range next year. Policy makers have missed their 2.5 percent inflation goal since December 2012.
"As long as deflation remains driven by a global slump of commodities prices and low food prices, no response with a rate change from our side is obvious," Kropiwnicki said. "If anything changes in this regard, I'll of course change my view. The sources of inflation will always draw my attention whenever I decide which motion to support."
Inflation, Unemployment
A former minister in charge of labor and social policy after a career of more than two decades in government, Kropiwnicki said unemployment data is second in priority only to his focus on inflation, followed by economic growth.
Poland's central bank charter states its "basic objective" is "to maintain price stability, while supporting the economic policy of the government, insofar as this does not constrain the pursuit of the basic objective."
For the past eight quarters, gross domestic product has expanded by at least 3 percent from a year earlier, with growth accelerating to 3.9 percent in the final three months of 2015. The central bank now forecasts the economy will add 3.8 percent this year and next, up from previous projections of 3.3 percent and 3.5 percent.
The view of economy in the bank's latest projection is "reassuring," Kropiwnicki said, adding that he "wouldn't be surprised" if GDP rose 4 percent in 2016. Still, even economic growth at that pace won't create inflation pressure to prompt any rate change, he said.
"Monetary policy is quite effective, or even very effective, when it comes to cooling economic growth," Kropiwnicki said. "However, it very rarely -- if at all -- stimulates the economy. Indeed it only stimulates an economy suffering from a lack of liquidity."
Before it's here, it's on the Bloomberg Terminal.
LEARN MORE