Brussels Bombers Named as Hunt for Ringleader Goes On
Failure of third explosive device credited with saving lives

Provisional toll put at 31 dead, 270 injured in twin bombings
Belgian authorities hunted for the ringleader of Tuesday's attacks and said only the failure of a third bomb at the Brussels airport prevented an even larger bloodbath.
Prosecutors identified two of three suicide bombers and searched for a fourth man in a cream-colored coat caught on security cameras who escaped from the airport after placing the bomb, the largest of three at the airport. The provisional casualty toll from the airport attacks and subway explosion of 31 dead and 270 injured is likely to rise, authorities said.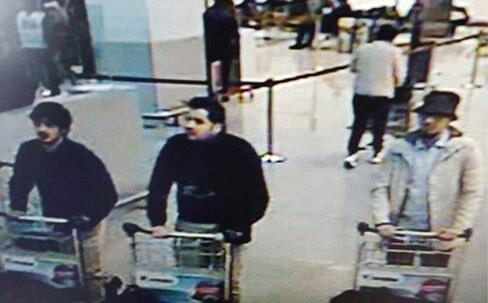 Police later on Tuesday discovered their bomb-making hideout in northern Brussels along with a will from one of the perpetrators that showed he was "frantic, not knowing what to do, being hunted everywhere," federal prosecutor Frederic Van Leeuw told reporters in Brussels on Wednesday.
Belgium kept its terror alert at the highest level after police raided houses in Brussels.
Before it's here, it's on the Bloomberg Terminal.
LEARN MORE