Trump University Plaintiff May Be Allowed to Leave Lawsuit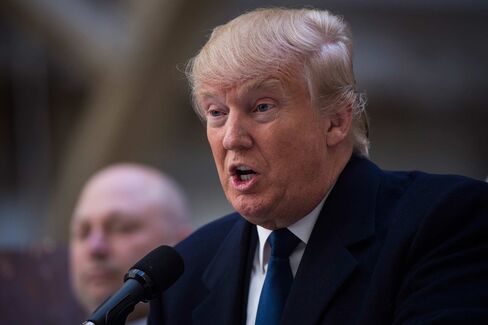 Woman who filed California case 6 years ago wants to drop out

She can withdraw if second plaintiff agrees to be questioned
A woman who sued Donald Trump's namesake university claiming the now-defunct institution was a fraud can drop out as lead plaintiff as long as a second former student agrees to be questioned by the real estate investor's lawyers, a judge ruled.
U.S. District Judge Gonzalo Curiel in San Diego on Tuesday said he planned to grant a request by Tarla Makaeff, who filed the suit in 2010, to end her role as a class representative in the case as long as another student, who accused Trump University of elder abuse, submits to a new deposition by Trump's lawyers within three weeks. In a blow to Trump, the conditional ruling leaves open the possibility the case will go to trial while he is campaigning for president.
Makaeff's attorneys say she's been traumatized by Trump's litigation tactics and that the prospect of more "mistreatment" at trial was unbearable. Trump's lawyers says her withdrawal would be unfair as the case edges toward a trial because they've built their case on her statements.
The school's legal woes have been fodder for Trump's Republican rivals in recent debates as he continues to seek the party's nomination. Trump and the university face a second class-action in San Diego by former students, as well as a fraud case brought by New York Attorney General Eric Schneiderman, a Democrat. Lawyers for Trump have asked Curiel to delay a trial until after the presidential election.
Trump University is accused in all three lawsuits of misleading students into paying as much as $35,000 for real-estate seminars. Trump has maintained that the vast majority of students gave the school a good rating and said it was a positive experience.
Daniel Petrocelli, a lawyer representing Trump, declined to comment on Tuesday's ruling. Amber Lee Eck, an attorney for the plaintiffs, didn't immediately respond to a phone message seeking comment.
'Positive Experience'
Trump's lawyers had argued that Makaeff's withdrawal would handicap their defense because they intended to call witnesses to testify about her "positive experience" in the school and "her pattern of starting but failing to complete seminar programs."
Curiel said that Makaeff's experience has nothing to do with the defense and little to do with the main allegations in the suit, whether the school was an accredited university and whether Trump falsely claimed that students would taught by people hand-picked by him. The judge also said the deposition testimony she's given could still be presented to a jury.
Makaeff's absence as a trial witness wouldn't "cripple defendants' ability to defend this case," the judge said.
Trump had also argued that Makaeff asked to leave the case too late, after six years of litigation. He alleged that she knew in 2011 that he could be a presidential candidate and that her stress, financial difficulties and health issues didn't prevent her from doing a press tour to generate negative publicity.
'Media Obsession'
Curiel said neither "pundits, counsel or the parties anticipated the media obsession" the case would create due to Trump's presidential candidacy.
"While Makaeff's request to withdraw at the pre-trial stage is unusual, so is the unforeseen degree of attention this case has engendered at the present stage of the litigation," Curiel wrote. "Nor, given the degree of public scrutiny to which Makaeff has been recently subjected, is her apprehension that experiencing further publicity as a named plaintiff would have a negative impact on her professional prospects unreasonable."
The judge also said he'll consider after the case is resolved whether Makaeff must cover some of Trump's expenses to defend against her allegations. Makaeff was awarded $800,000 in fees after Trump's countersuit against her for allegedly making false statements was thrown out in 2014.
Curiel stuck with his earlier plan to hold a pretrial conference on May 6. He rejected a request by the students' lawyers schedule a special hearing to discuss their proposal to hold a trial as soon as June, possibly without a jury.
The case is Makaeff v. Trump University LLC, 10-cv-00940, U.S. District Court, Southern District of California (San Diego).
Before it's here, it's on the Bloomberg Terminal.
LEARN MORE