Traders Flee Halkbank as They Brace for Fallout Over U.S. Probe
Traders dumped shares of Turkiye Halk Bankasi AS on concern that the U.S. indictment of a Turkish man who was at the center of a bribery scandal involving the lender in 2013 may also incriminate the bank.
While the indictment unsealed on Monday didn't name Halkbank, concern that new findings may entangle key business and political figures has revived fears that the state-run lender may be involved. That sent the stock plunging the most since June as traders exchanged about 93 million shares, almost four times the six-month average. The company's 8.7 percent drop to 10.50 liras at the close in Istanbul was the biggest contributor to the Borsa Istanbul 100 Index's 2 percent loss.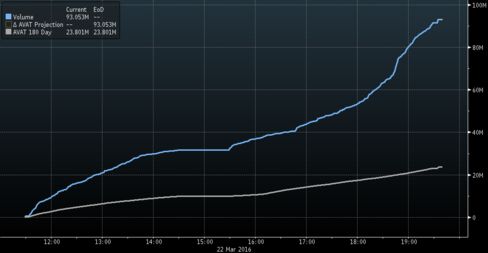 The U.S. has charged gold trader Reza Zarrab and two others for running a scheme to help the Iranian government launder hundreds of millions of dollars. Zarrab had been at the center of a bribery scandal more than two years ago that involved key government officials and businessmen, sending the nation's assets into a downward spiral. State-run Halkbank was one of the lenders Zarrab used to process payments. Former Chief Executive Officer Suleyman Aslan was jailed briefly after police found millions of dollars stuffed into shoe boxes when they raided his home in 2013.
"Halkbank would be more at risk than any other bank both because it was the center of the graft scandal and because it used to process payments with Iran," said Nathan Griffiths, a senior emerging-market equities manager who helps oversee $1.2 billion at NN Investment Partners in The Hague. "When the sanctions were increased, they were supposed to pull back from this activity, but if the U.S. is going after those who traded with Iran, it is clear that Halkbank would be the biggest concern."
The selloff comes as Turkish banks face rising bad loans and battle stubbornly high inflation, and as President Recep Tayyip Erdogan seeks to lure foreign cash to the $720 billion economy. The nation relies on foreign inflows to help fund its current-account deficit, which last year was the widest as a percentage of gross domestic product among G-20 countries, according to data compiled by Bloomberg.
Halkbank has no connection with the ongoing investigation and is not part of any inquiry or investigation, the Turkish lender said in a public filing. "Our Bank continues to perform its business according to national and international regulations," it said.
Before it's here, it's on the Bloomberg Terminal.
LEARN MORE