Taxis Jam Jakarta Streets in Revolt Against Uber, GrabTaxi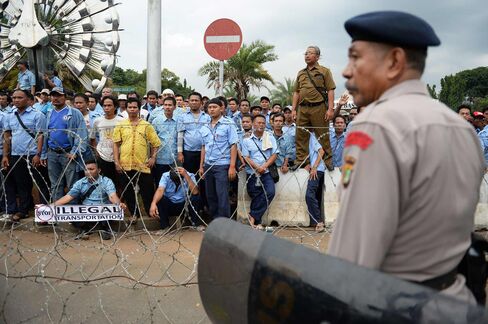 One driver shot, others harrassed as tempers flare in protest

Widodo calls for calm, says ministers working on compromise
Central Jakarta was brought to a standstill on Tuesday by thousands of taxi drivers angry over the spread of ride-sharing applications across the world's fourth-most populous nation.
Leading taxi operator PT Blue Bird said one its drivers was shot, as other drivers harassed those still operating. Incidents broadcast on social media showed several drivers jumping up on the roof of one cab, while another driver tried to run over a group of protesters.
Jakarta's main thoroughfare from the state palace to the business district was mostly closed off as long lines of blue and white taxis filled the road. Taxis also blocked the entrance to the Mandarin Oriental hotel where drivers held up signs saying "Stop Illegal Transportation," delaying the central bank chief, Agus Martowardojo, from attending an investment conference.
According to a Land Transportation Drivers Union spokesman, Suharto, as many as 15,000-20,000 people joined the protest. Taxi drivers opposed to the spread of Uber Technologies Inc. and Grab Taxi Holdings Pte Ltd. called for nationwide strike if the Communication Ministry declined their demands to block the controversial ride-sharing apps.
Indonesia's President Joko Widodo called for calm, saying that while people had the right to protest, demonstrations must be conducted in an orderly way. Without giving specific details, Widodo said Transport Minister Ignasius Jonan was working on a compromise.
Jonan, who has stated that he wants all ride-sharing drivers and cars to be registered, called last week for a block on both companies until the government can establish a legal framework for them operate.
Vice President Jusuf Kalla, who was also trapped by the blockade, expressed support for the ride-sharing apps.
"If we reject technology and don't use it, we'll be left behind," he said at a meeting of ministers on Tuesday. "It's a matter of adjusting to the rules or adjusting the rules. Change is inevitable."
Blue Bird Director Adrianto Djokosoetono said one of its drivers was hospitalized after being shot. The company would take action against drivers taking"anarchic demonstrations," he said in a phone message.
Shares of Blue Bird, the country's main taxi operator, were unchanged Tuesday after falling 2 percent earlier in the day. They have fallen 9.9 percent this year. PT Express Transindo Utama, another taxi company, shares rose 0.9 percent, and are up 124 percent this year.
Michael Brown, Uber's regional manager for Southeast Asia, didn't respond to an e-mail and phone call seeking comment.
Before it's here, it's on the Bloomberg Terminal.
LEARN MORE