Nintendo Stock Jumps as New Miitomo App Users Top 1 Million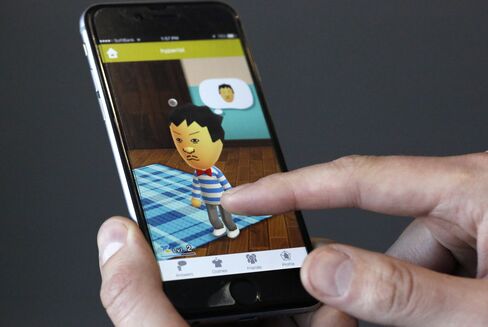 The free-to-play messanging-based app was released last week

Miitomo lets users create avatars after their own likeness
Nintendo Co. rose the most in more than a month after users of Miitomo, the company's first foray into smartphone apps, surpassed 1 million.
The shares jumped 8.2 percent to close at 16,515 yen in Tokyo on Tuesday, the biggest increase since Feb. 15. The messaging-based application climbed to No. 1 in Japan's free-app ranking on Apple Inc.'s iOS devices after its release on March 17, according to market researcher App Annie.
Nintendo is seeking to bring back players who migrated away from games on company's dedicated hardware, such as the Wii and handheld DS devices. The Kyoto-based company has promised to bring hits like Super Mario Bros. and Donkey Kong to smartphones, helping to boost its share price 33 percent last year. So far, President Tatsumi Kimishima has been coy, saying only that Nintendo's next smartphone game will feature one of the company's beloved characters.
"They didn't even have to use Mario to get 1 million downloads, a testament to the power of Nintendo's content," said Tomoaki Kawasaki, an analyst at Iwai Cosmo Securities Co. "The next question is how to monetize."
Avatar Playground
Miitomo users crossed the 1 million mark three days after its release, according to a post on Nintendo's official Twitter account. The app, currently available only in Japan, lets users automatically generate a cartoon-like avatar using a photo taken on the smartphone. Players can tweak minute facial features, set personality parameters and choose the character's voice.
The app encourages people to share their in-app selfies on Facebook, Twitter, Instagram and Line. The app also offers rewards for connecting with friends. Nintendo plans to make Miitomo, a play on the words "me" and "friend" in Japanese, available in 15 more countries this month, including the U.S., France, Germany and Russia.
The Kyoto-based company has teamed with DeNA Co., operator of the Mobage network, to roll out five games for mobile devices by March 2017. Shares of DeNA closed Tuesday 6.5 percent higher at a three-month high.
Before it's here, it's on the Bloomberg Terminal.
LEARN MORE