Mexico's Busiest M&A Suitor Has a Billion Euros for Fresh Deals
Europe bond sale replenishes coffers after acquisition spree

Femsa and its bottler have done 19 deals in past five years
Fomento Economico Mexicano SAB bought more companies than any other in Mexico last year while expanding its burgeoning pharmacy business. Now it's got a billion euros ($1.1 billion) of fresh ammunition.
That's likely to translate into new acquisitions as the company looks to replicate its success in building Latin America's largest convenience-store chain and biggest Coca-Cola bottler, according to Corp. Actinver SAB. One possible target: some of Mexico's 11,000 gas stations. Femsa's already adding service stations and the industry is on the verge of transformation since the nation junked a state oil monopoly dating back to 1938.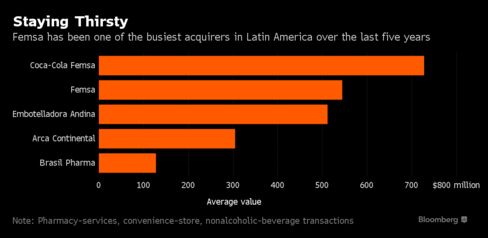 Femsa and its bottling unit, Coca-Cola Femsa SAB, have completed 19 deals worth a total $6.2 billion in the last five years, the most in Latin America among convenience-store, pharmacy or non-alcoholic beverage companies. Femsa's sale of euro-denominated debt last week reloads the war chest after it bought drug-store chains last year, including Chile's Farmacias Cruz Verde SA.
"Selling bonds could open up the possibility of a more aggressive buy" in gas stations, Jose Antonio Cebeira, an analyst at Actinver, said by telephone from Mexico City. "The company is always looking for new acquisitions to go into new markets."
Femsa declined to comment on any possible acquisitions, spokeswoman Alma Beltran said in an e-mail. The proceeds of its bond sale will be used for general corporate purposes and to reduce debt costs, according to a company statement March 18. Femsa added 80 gas stations in Mexico last year, giving it more than 300. It also operates more than 14,000 convenience stores under the Oxxo brand.
Before it's here, it's on the Bloomberg Terminal.
LEARN MORE