Italy's Popolare, BPM Said Nearer to Merger After ECB Talks
Banks said willing to comply with latest central bank requests

Shares suspended, bank boards meeting today on merger plan
Banco Popolare SC and Banca Popolare di Milano Scarl are edging closer to a merger that would create Italy's third-largest lender after adjusting the terms of an agreement to satisfy the European Central Bank, according to people with knowledge of the matter.
Shares in the two banks were suspended from trading on Wednesday pending an announcement. The ECB on Tuesday asked for clarification on a proposed deal that includes Banco Popolare's plan to raise about 1 billion euros ($1.1 billion) through a share sale and disposals of assets and bad loans, according to two people who asked to not be identified because the talks are private.
The banks have been racing to meet ECB requests that they form a company with a strong capital position and transparent governance. The boards of the two lenders are scheduled to meet Wednesday to discuss the merger plan.
The ECB is stepping up pressure on Italian banks to tackle an estimated 360 billion euros of troubled and defaulted loans that are undermining new lending and weighing on the economy. Lenders from Banca Monte dei Paschi di Siena SpA to cooperatives including Popolare di Vicenza SCpA and Banca Carige SpA have faced ECB scrutiny of their balance sheets, with some threatened with resolution.
A deal seems likely to succeed, Daniele Nouy, chairman of the ECB's supervisory arm, said at a press conference in Frankfurt on Wednesday. While the ECB has asked the banks for a business plan, "it's not a precondition," she said.
Some Italian bank mergers resulted in a weaker company, she said. "We want to make sure that the new entity is strong from the very beginning."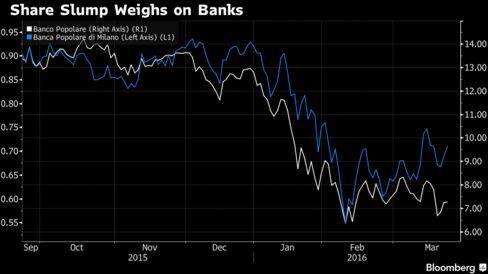 Banco Popolare Chief Executive Officer Pier Francesco Saviotti and Giuseppe Castagna, his counterpart at Popolare Milano, agreed on a merger project in February after months of negotiations. Castagna would oversee the combined company, while Saviotti would become chairman of the executive committee, people with knowledge of the plan have said.
The tie-up would be the largest since the ECB took over banking supervision in late 2014. It would create a lender with about 245 billion euros in assets, the largest among Italian banks after UniCredit SpA and Intesa Sanpaolo SpA.
Shares of Banco Popolare have dropped about 47 percent in the last six months, the fourth-worst performance in the 47-member Stoxx Europe 600 banks index, and Banca Popolare di Milano has declined 21 percent.
Before it's here, it's on the Bloomberg Terminal.
LEARN MORE