Cameron Slams UKIP for Using Brussels Bombs to Push `Brexit'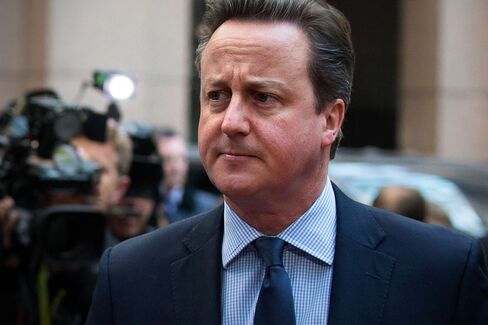 UKIP spokesman said attack shows dangers of EU free movement

Prime minister says comments `not appropriate at this time'
Prime Minister David Cameron attacked the U.K. Independence Party for seeking to use Tuesday's terrorist attacks in Brussels to make the case for Britain to leave the European Union.
UKIP's defense spokesman, Mike Hookem, issued a statement saying the "horrific act of terrorism" showed that EU free-movement rules and "lax border controls" are "a threat to our security." Britain votes on June 23 on whether to leave the EU.
"It's not appropriate at this time to make any of those sorts of remarks," Cameron told reporters in televised comments from his Downing Street office in London. "Today is a day for sympathy and condolence, for enhancing our own security."
Cameron has used the collective security provided by membership of the EU as a key plank of his campaign to stay in the 28-nation bloc, prompting Hookem's comments and criticism from other opponents after Tuesday's attacks.
"Brussels, de facto capital of the EU, is also the jihadist capital of Europe," Daily Telegraph newspaper columnist Allison Pearson said on her Twitter feed. "And the Remainers dare to say we're safer in the EU!" She followed this with the hashtag #Brexit. UKIP leader Nigel Farage retweeted Pearson's comment.
'Truly Vile'

Chris Bryant, a senior lawmaker from the opposition Labour Party, responded that Pearson's post was "truly vile," while the Scottish National Party's Stewart McDonald tweeted that "it's an especially empty and small-minded person who makes politics out of this."
Security at the U.K.'s ports, airports and railway stations has been stepped up as a result of the attacks, Cameron said after chairing a meeting of his government's so-called Cobra emergency committee. London's Metropolitan Police also appealed for members of the public with images or footage of the attack to send it to them via the website www.ukpoliceimageappeal.co.uk.
The Belgian flag will fly over Cameron's office at 10 Downing Street, his spokeswoman, Helen Bower, told reporters, and British flags on government buildings will be lowered to half-mast as a symbol of respect.
At least one Briton was injured in the attack on Brussels Airport, Bower said.
The pound posted the biggest decline among major currencies amid speculation the Brussels attacks will boost the case for a so-called "Brexit."
Before it's here, it's on the Bloomberg Terminal.
LEARN MORE