Buybacks Turn U.S. Utilities Into Lowest-Income Stocks: Chart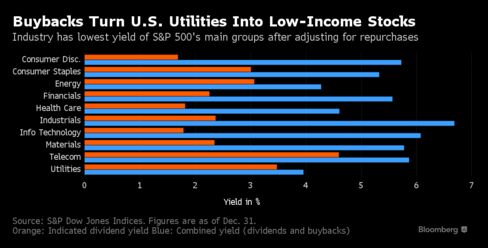 Utility stocks may be the worst choice for income-seeking U.S. investors even though they have relatively high dividends, based on data that S&P Dow Jones Indices compiled for a report today. The Standard & Poor's 500 Utilities Index had the lowest yield last year among the S&P 500's 10 primary industry groups after adjusting for stock repurchases. The combined dividend and buyback yield was 3.96 percent, while industrial stocks had the highest yield at 6.69 percent.
Before it's here, it's on the Bloomberg Terminal.
LEARN MORE