Ukraine's Gontareva Sees Financial Stability Hostage of Politics
Central bank head says nation may lose six months on election

Resumption in IMF bailout needed to ease interest rates
Ukraine's political gridlock, already holding up billions of dollars in aid, is also threatening financial stability and postponing monetary easing, according to the nation's central bank governor.
Delays in talks on a cabinet revamp present a further danger to the hryvnia after the currency slumped 9 percent against the dollar this year, Valeriya Gontareva said in an interview. Policy makers need a resumption in Ukraine's $17.5 billion bailout from the International Monetary Fund to cut their benchmark interest rate and relax capital controls, she said. Early elections could set Ukraine back another half year, she said.
"We've already lost the past six months -- we didn't get any financing and we didn't proceed with reforms," Gontareva said Friday in her office in Kiev, the capital. "To lose another six months in a situation that's critical for the economy isn't acceptable."
Ukraine is mired in its worst political crisis since deadly protests toppled the former Soviet republic's Kremlin-backed leader, Viktor Yanukovych, in 2014. Stalled reforms prompted the exit of key officials from the post-revolution team and fed tensions between Prime Minister Arseniy Yatsenyuk and President Petro Poroshenko, who's pledged a government overhaul. Bailout disbursements have been halted until the cabinet situation is resolved, with the IMF warning the program may be scrapped altogether without progress to tackle graft.
The central bank held borrowing costs at 22 percent for a fourth meeting this month, saying domestic turmoil had heightened risks to inflation, which eased to 32.7 percent in February. Policy makers have stepped in to buoy the hryvnia, selling more than $400 million of reserves at auctions while maintaining most of the capital controls imposed last year as the military conflict in Ukraine's east intensified.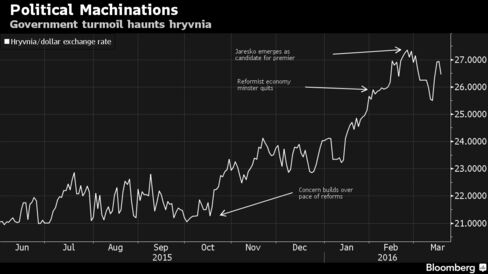 While the currency rallied early this month on speculation Finance Minister Natalie Jaresko would lead a government of technocrats, it's since lost ground amid uncertainty over the make-up of the next cabinet. While Gontareva said any working government would suit the central bank, she considers Jaresko a suitable candidate for premier. She urged politicians to end the deadlock by April, a deadline Poroshenko has also mentioned.
While the central bank's foreign reserves edged up slightly in February, reaching $13.5 billion, as much as $5 billion in IMF and related bilateral aid hasn't arrived as planned because of the political situation. To loosen capital controls further, the stockpile must surpass $15 billion, according to Gontareva. As Ukraine's economy recovers from an 18-month recession, IMF assistance is essential to build confidence, she said.
"The IMF program isn't just financial aid to boost our reserves or cover our budget deficit," Gontareva said. "Restoration of co-operation will give impetus to business."
Before it's here, it's on the Bloomberg Terminal.
LEARN MORE