Dimon's Timing Looks Savvier by the Day as Equities Rebound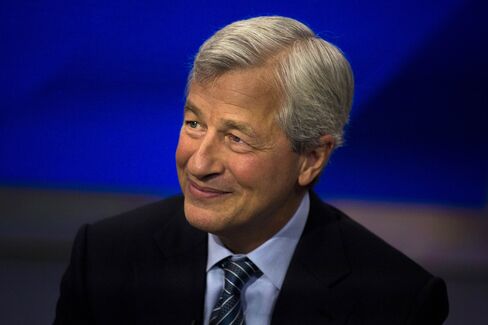 MSCI All-Country World Index pulls within 1% of going positive

Investors are glad for the rebound but wonder what's changed
Even to hardened market veterans, the wild ride in stocks this year has been gut-wrenching.
Global equities delivered $8.6 trillion of losses through Feb. 11 as the MSCI All-Country World Index tumbled 12 percent. Talk of a global recession and powerless central banks could be heard from Tokyo to London to New York.
And then Jamie Dimon appeared. After the close of trading that day, news broke that the chairman and chief executive officer of JPMorgan Chase & Co. spent $26.6 million to buy shares of his New York-based bank. The MSCI soared almost 5 percent in the next four days, the start of a rally that -- barring a disaster -- will put the broadest measure of worldwide equities on track this week to erase its loss for the year.
To be sure, Dimon's move -- which came as confidence in the world's biggest financial institutions was waning -- is far from the only reason for the rebound. Concern that China was about to embark on a massive devaluation of its currency has eased, oil prices are no longer in freefall and economic data have on average improved.
Bridled Enthusiasm
And yet for all the positive signals being sent by stocks, buyers aren't storming back. In fact, going by one measure of U.S. outflows, investors just yanked more money from American equities that any time since September. Enthusiasm remains bridled as a logjam of investor concerns, from China growth to ineffective central-bank policy and weakening profits, shows no signs of dissipating.
"The question everyone should be asking is what has really changed in the last three months?" said John Canally, chief economic strategist at LPL Financial in Boston, which oversees about $460 billion. "Global concerns, while slightly less, are still there."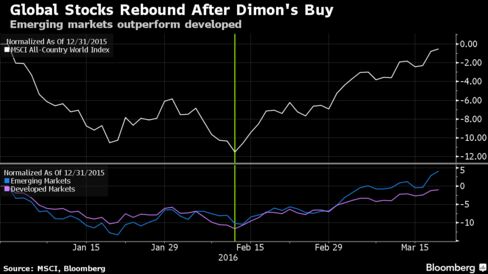 Even as benchmark measures are pulling even for the year, the rebound has been anything but unanimous. The Stoxx Europe 600 Index remains down 7 percent and strategists are predicting little improvement as investors assess whether Mario Draghi's negative interest rates are the right prescription for the economy. It's the same story in Japan, where the Topix index has lost 13 percent. The MSCI gauge slipped 0.3 percent at 10:13 a.m. in New York.
Emerging Markets
In fact, most of the heavy lifting in the global rebound has been done not in the developed world, where an MSCI index was down 1 percent this year through Friday, but in the emerging, where shares are up 4.1 percent. The outperformance is the third-biggest of any similar stretch since 2009.
Investors of virtually all types have sold more stock than they've purchased, according to Bank of America Corp. In the week ended March 11, the bank's hedge fund, institutional and private clients sold $3.7 billion, the most since September and the seventh consecutive week of withdrawals, the company said in a note last week. Net sales by institutions were the second-biggest since the bank began recording the data.
The other issue is earnings. As economists lowered projections for this year's global growth to 3 percent from 3.6 percent in August, analysts cut profit estimates. They now expect a 2.9 percent increase in net income for U.S. companies in 2016, down from 7.1 percent in December, and profit declines in Europe. Worldwide, there have never been as many earnings downgrades versus upgrades as there are now, according to the annual averages of a Citigroup Inc. index tracking the changes.
Not Buying
"I'm not buying anything; I'm sitting on my hands and waiting," said Michael Woischneck, an equities fund manager who oversees the equivalent of $166 million at Lampe Asset Management in Dusseldorf, Germany. "I would definitely sell this rally because it's totally central-bank driven and has nothing or very little to do with fundamentals."
Bulls are still breathing sighs of relief after equities bounced back from some of the darkest days since 2013. As of the market's low on Feb. 11, American lenders' stocks were down 23 percent from a July peak, energy companies had fallen as much as 36 percent from a high and at least 40 markets in the world with a total value of $27 trillion were in bear territory.
Profitability Worries

At the center of the maelstrom in February were banks as concerns swirled about loan losses and the profitability of lending. Deutsche Bank AG plunged 9.5 percent on Feb. 8 as investors speculated it might struggle to pay coupons on its riskiest bonds. The shares rallied 29 percent since their low that month through last week, as the firm set a debt buyback the day after Dimon's purchases at JPMorgan.
Supported by a price-earnings ratio that touched 13.7 in February, the lowest since 2014, the MSCI gauge has climbed more than 10 percent in a month, on Friday capping its first five-week rally in two years. Gains exceeding 16 percent have lifted what had been the market's most beaten-down industries: commodity companies, banks and energy producers.
"There are a lot of issues in the world right now, but the world is not falling apart," said Andy Budden, Singapore-based investment director at Capital Group, which manages about $1.4 trillion. "We can still find a lot of businesses which have great prospects."
While data in the biggest economies are still missing projections, there are signs things are improving. U.S. employers added more workers in February than projected, signaling resilience in the world's largest economy. China, whose economy is forecast to grow 6.5 percent this year, is supporting its currency and shares. Oil has rebounded 50 percent from its low.
Oil Impact
"The fact that the market now strongly believes that oil prices have hit bottom has a big impact," said Kiyoshi Ishigane, chief strategist at Mitsubishi UFJ Kokusai Asset Management Co. in Tokyo. "The pessimistic mood has retreated for now, and it looks like the U.S. economy itself won't miss the mark in any major way. We can probably assume that the ECB's additional easing measures will have positive effects."
Last week, Shankar Char, a senior vice president at Antique Stock Broking Ltd. in Mumbai, stood on his office chair to tell everyone that his prediction for a 9 percent turnaround in the NSE Nifty 50 Index had just come true. But while he enjoyed squawking over a prescient call, Char wasn't sounding an all-clear for global markets.
"Large parts of the developed world continue to suffer anemic growth despite aggressive monetary stimulus," he said. "Where's the big incremental demand for commodities going to come from? Oil and metals are witnessing a technical rebound. This reality will sink in sooner than later and could be the point where this risk-on trade begins to come unstuck."
Before it's here, it's on the Bloomberg Terminal.
LEARN MORE