Next Boss at Australia Bourse to Face Global Merger Upheaval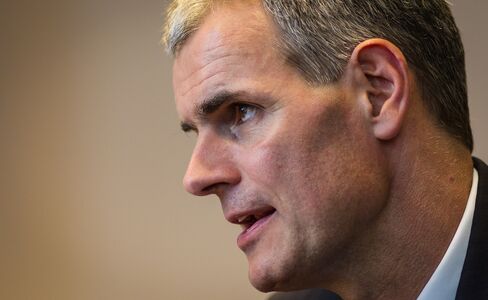 ASX shares rose 41% under Funke Kupper, outpacing market

Funke Kupper resigned Monday, citing Tabcorp investigation
Australia's dominant bourse operator is losing its chief executive just as the global exchange landscape is undergoing a major upheaval.
Elmer Funke Kupper, 50, stepped down on Monday after 4 1/2 years in charge at ASX Ltd. as police investigate activities in Cambodia of the Australian betting company he formerly led. The departure comes as global peers embark on a further round of consolidation that threatens to leave ASX facing more powerful rivals. The Australian government has said a takeover of the stock exchange would be against the national interest.
"As long as the Australian government is still sensitive to a foreign buyer of the exchange, then any such external pressure shouldn't be material," said Bernard Aw, market strategist at IG Asia Pte. "The current prime minister is more pro-business and he comes from the finance sector, so that might possibly change the government's tune."
Before Funke Kupper took on the top job in 2011, Singapore Exchange Ltd. attempted to buy ASX in a deal blocked by Wayne Swan, who was then treasurer in a Labor Party government. Deutsche Boerse AG agreed last week to acquire London Stock Exchange Group Plc in a deal that may create the world's largest exchange operator by sales. The Australian bourse runs Asia's largest interest-rate derivatives market and the 12th-biggest global equity venue.
ASX, with its commodity focus and technology edge, would make a good partner for Hong Kong Exchanges & Clearing Ltd., according to Benedict Cheng, a Hong Kong-based managing partner at capital markets adviser GreySpark Partners.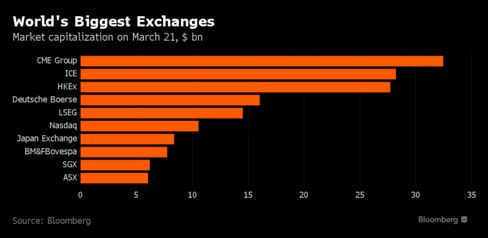 ASX's shares rose 41 percent under Funke Kupper, compared with a 32 percent gain by the benchmark Australian gauge and a 69 percent jump for a Bloomberg gauge of global bourses. The stock slipped 0.2 percent at 1:10 p.m. in Sydney. More than 800 of Australia's listed companies are in the energy and mining industries, the world's worst-performing sectors over the past year.
Diverse Market
Rick Holliday-Smith, ASX's chairman, will lead the company while a global search for a new chief executive officer is conducted.
"We have an experienced senior executive team who will work with me to manage the business while we search for a new CEO," Holliday-Smith said in a statement.
The Australian exchange operator last month reported first-half profit and sales that topped analysts' estimates, boosted by an increase in initial public offerings and higher equity trading fees. Average daily turnover of stocks traded on the ASX climbed 17 percent to A$4.1 billion ($3.1 billion).
Funke Kupper led Tabcorp Holdings Ltd. between 2007 and 2011 before joining ASX. Fairfax Media reported March 15 that Tabcorp made a payment of A$200,000 ($152,000) as it sought an online gaming license in Cambodia in early 2010. The payment was made when Funke Kupper was CEO and examining how Tabcorp could expand into Asian sports betting, according to the report. ASX spokesman Matthew Gibbs declined to comment beyond the company's statement on Monday.
Funke Kupper told Fairfax Media last week that he couldn't recall any such payment being made.
Australian Federal Police said in an e-mail to Bloomberg News that they are investigating allegations of foreign bribery related to Tabcorp.
Tabcorp Probe
In a separate statement Monday, Tabcorp granted Funke Kupper's request for leave as a director until the police investigation is finished. Tabcorp said last week that police had started a probe into the company's exploration of a business opportunity in Cambodia in 2009. Tabcorp said it didn't pursue the opportunity and the business never went ahead.
"Corporate governance is a big thing and people need to have faith and trust in the market," said Nathan Zaia, an analyst at Morningstar Inc. "It makes sense for the ASX to let him go if that's what he needed to do."
Zaia, who advises investors to hold ASX securities and says he's unlikely to change that rating because of Funke Kupper's resignation, said the former CEO deserves credit for improving the exchange's technology.
Better Systems
ASX's futures market will move to a new technology platform in April and equity trading will join that same system in September 2016, David Raper, the firm's head of trading and information services, said last year. In a deal in January, Digital Asset Holdings, the blockchain startup run by former JPMorgan Chase & Co. banker Blythe Masters, won a contract to radically speed up settlement in Australia's stock market.
"The biggest challenge for his successor is whether ASX will remain an independent exchange given the competition it faces," said Tony Farnham, Sydney-based strategist at Patersons Securities Ltd.
Before it's here, it's on the Bloomberg Terminal.
LEARN MORE