Five Countries Will Breach the EU Deficit Rule This Year: Chart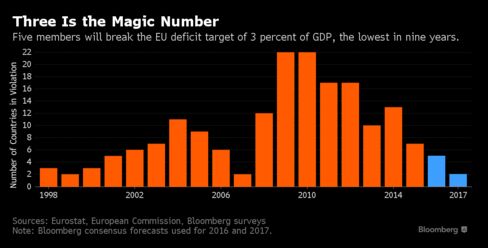 The European Union's 28 member nations are required by law to keep their budget deficits to within 3 percent of GDP. Five countries will exceed this level in 2016, according to the latest Bloomberg economic surveys: the U.K., France, Spain, Greece, and Croatia. An additional three countries -- Finland, Poland, and Romania -- will post deficits at the threshold. This is an improvement from 2009 and 2010, when no fewer than 22 EU countries overstepped the deficit limit.
Before it's here, it's on the Bloomberg Terminal.
LEARN MORE