Brazil Impeachment Upheaval Proves to Be a Boon for Its Coffers
Brazil's borrowing costs fall to 7-month low at local auction

The country faces a soaring budget deficit as economy sputters
Mounting speculation that Brazil President Dilma Rousseff will be impeached is making it cheaper for the cash-strapped nation to borrow.
At a local bond auction Thursday, Brazil sold 1.5 billion reais ($415 million) of notes due in January 2020 to yield 14.1 percent, the lowest since August. A week earlier, the government issued 3.85 billion reais of fixed-rate debt due in 2023 and 2027 in the biggest sale of the securities since May. Yields on similar bonds due 2025 have plunged 2.8 percentage points since September.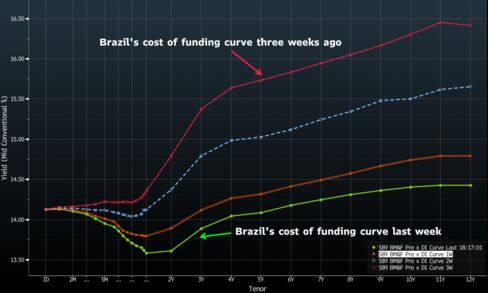 The tumble in borrowing costs couldn't come at a better time for Brazil, which is trying to finance a soaring budget deficit in the midst of the deepest recession in more than a century. Investors are piling into the nation's debt as the push to oust Rousseff gathers steam. Such a move could pave the way for a new government to revive the economy.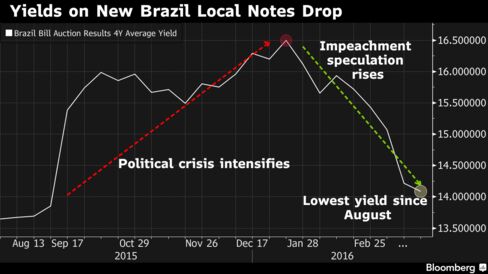 Rousseff's decision to name former President Luiz Inacio Lula da Silva to her cabinet last week reignited calls for her removal. His nomination as chief of staff was seen as an attempt to shield her predecessor from charges in Brazil's biggest-ever corruption probe.
"Increasing bets of a political change create room for the government to offer a lower premium during the Treasury's auctions," said Eduardo Velho, the chief economist at INVX Global Partners in Sao Paulo. Lula's appointment "seems to have sped up the impeachment process, a development that the government and the markets weren't expecting."
Brazil's real gained 0.5 percent Monday to 3.6055 per dollar as of 2:12 p.m. in New York.
Before it's here, it's on the Bloomberg Terminal.
LEARN MORE