'Brexit' Hedges Signal U.K. Stock Calm Temporary as Traders Flee
Bets for three-month volatility at 2013 high versus one month

Foreign investors, who own most of market, are pulling out
While U.K. stocks come close to erasing losses for the year and volatility is at a seven-month low, options and fund flows signal lingering concerns.
QuickTake Will Britain Leave the EU?
Investors are paying up to protect against an increase in stock swings by June, when Britons must decide whether to leave the European Union. The cost of FTSE 100 Index options maturing in three months has reached a three-year high relative to one-month contracts, and traders globally have cut their U.K. stock holdings even after a 12 percent rebound in the gauge through Friday. The FTSE 100 slipped 0.1 percent on Monday.
"Most of the big market participants are protecting themselves right now or in the next few weeks," said Herbert Perus, head of equities at Raiffeisen Capital Management in Vienna. "In the last few weeks before June 23, there will be a lot of volatility."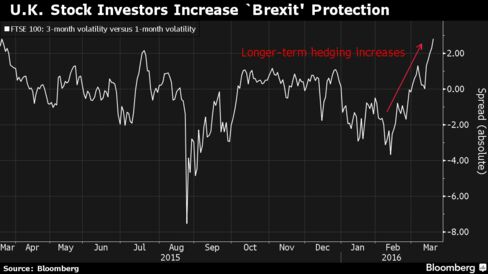 U.K. shares have benefited from a rebound in miners and a weaker pound, becoming this year's top performers among major European markets. And yet the threat of the nation's exit from the EU -- which the Bank of England said on Thursday may hold back investment and economic growth -- is making investors anxious -- and leaving foreigners vulnerable.
"Brexit would be a double whammy for foreign investors," said Julien Jarmoszko, European equities analyst for S&P Global Market Intelligence. He sees the risk of global investors shunning U.K. stocks increasing as the referendum approaches. "They would get lower U.K. earnings and a lower pound."
Overseas investors matter in the U.K. stock market because they own about 54 percent of the nation's shares, according to the latest available data from the Office for National Statistics. For the FTSE 250 Index of smaller companies, 62 of its members have at least two-thirds of their shares owned by foreign investors, including firms such as luxury shoemaker Jimmy Choo Plc and value-retailer Poundland Group Plc, data compiled by Bloomberg show.
Fund managers globally are 20 percent underweight U.K. equities, more than in February, making the market the least favored, according to a Bank of America Corp. survey this month, which cited the so-called "Brexit" as one of the biggest risks. Splits in the Conservative Party worsened over the weekend, after Pensions Secretary Iain Duncan Smith resigned from the cabinet, citing planned cuts in the Budget and criticizing the style and focus of Prime Minister David Cameron's government.
The FTSE 100 has fallen 0.8 percent this year through Friday, less than the regional Stoxx Europe 600 Index. While the pound's volatility surged after Cameron called the referendum on the nation's EU membership last month, stock swings waned. But the cost of one-month options has fallen almost twice as fast as for three-month contracts in March, making the longer-term bets the most expensive since February 2013 in comparison.
A JPMorgan Chase & Co. index of companies deemed the most at risk is down 11 percent this year, trading near its lowest level since 2014 relative to the FTSE 100. The measure includes aircraft-engine maker Rolls-Royce Holdings Plc and retailer Next Plc, which have at least a third of their shares held by U.S. investors, according to data compiled by Bloomberg.
"So far, it has been relatively quiet," said Stephane Ekolo, chief European strategist at Market Securities in London. "But as soon as 'Brexit' newsflow picks up -- and especially if we start to see the 'leave' option gaining ground in the polls -- these stocks will come under pressure."
Before it's here, it's on the Bloomberg Terminal.
LEARN MORE