Turkey Blames Islamic State for Weekend Bombing in Istanbul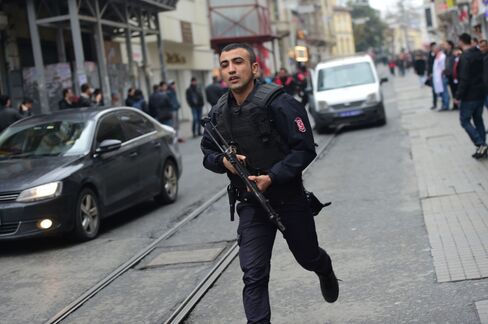 Suicide bomber identified as having links to militant group

Five people detained in deadly attack on city's busies street
Turkey blamed Islamic State for the fourth deadly bombing in its big cities this year, as militants expand their strikes on the country's political and commercial core.
Interior Minister Efkan Ala identified the suicide bomber who killed four bystanders and wounded dozens on a busy Istanbul boulevard on Saturday as Memet Ozturk, a jihadist "linked to the Daesh terrorist organization," as the group is known in Arabic. Five people have been detained in connection with the attack, he said on Sunday.
Spillover from Syria's civil war has gradually engulfed Turkey, beginning with an eruption of violence in the southeast as autonomy-seeking Kurds resumed a 30-year insurgency against Turkish forces. More recently, terrorist attacks have hit Ankara and Istanbul, bringing life in the nation's largest city to a virtual standstill this weekend.
Since Saturday's attack, major roads and shopping districts in the normally congested metropolis were empty as Turks avoided public places and stayed at home. Authorities cited security concerns in postponing an intra-city match between Istanbul soccer clubs Galatasaray and Fenerbahce, two hours before it was to begin.
"We know very well that the goal of these attacks in public spaces is to drag us into defeat and fear," President Recep Tayyip Erdogan said in remarks televised from Istanbul. "We will never surrender to terrorism's agenda."
While Turkey classifies Islamic State as a terrorist group, it was late to seal its borders to jihadists crossing from Turkey into Syria, identifying Kurdish militants and the regime of Syrian President Bashar al-Assad as the primary threats to its national security. Turkey's government says Western officials fail to recognize that Islamic State and Kurdish militants pose an equal threat to Turkey.
Three of the people killed on Saturday were Israelis but Israel Foreign Ministry spokesman Emmanuel Nahshon said it was too early to determine whether they had been targeted. The Israeli government on Sunday raised its travel alert on Turkey, advising its citizens not to travel there.
Urban Centers
Concerns over an imminent bombing had prompted German diplomatic missions and the German School in Istanbul to shut down last week.
More than 80 people have been killed in four attacks in Ankara and Istanbul this year. TAK, which splintered from the autonomy-seeking Kurdish PKK, has claimed credit for two of them, and authorities have blamed two on Islamic State.
"Turkey is now mired in a tripartite asymmetric conflict," said Aaron Stein, a senior fellow at the Rafik Hariri Center for the Middle East in Washington, DC. "There is a PKK insurgency, a wave of Islamic State attacks in Turkey, and Ankara's efforts against Assad, ISIS and the YPG in Syria," he said, referring to an armed Kurdish group there.
"All of the conflicts are linked and stem from the instability in Syria and certain policy decisions," he said.
Before it's here, it's on the Bloomberg Terminal.
LEARN MORE