Foxconn-Sharp Delay at 25 Days Raising Risks for Completion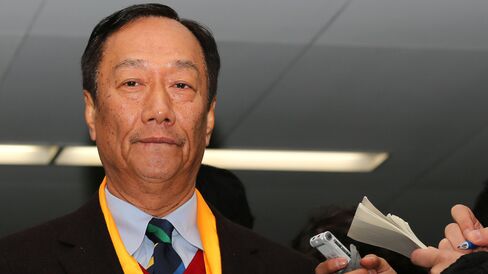 A final takeover agreement may not be signed this month

Foxconn has asked Sharp and its auditor for more information
Foxconn Technology Group's delay in finalizing a takeover agreement for Sharp Corp. is raising risks that the deal the Taiwanese company has pursued for months will fall apart before it's completed.
It has been 25 days since Sharp's board voted in favor of a bailout proposal from Foxconn over a competing offer from Innovation Network Corp. of Japan. Foxconn's bid totaled more than 600 billion yen ($5.4 billion), including 489 billion yen to acquire new shares in Sharp and 100 billion yen to acquire preferred stock from the company's main banks.
Since that time, Foxconn Chairman Terry Gou has held off in signing a final agreement with Sharp as his advisers examine the company's finances. Foxconn has sought to reduce the amount it is supposed to pay Sharp's banks and wants more clarity on Sharp's performance in the current quarter, people familiar with the matter have said.
Foxconn is also seeking to reduce its payment for new Sharp shares by 10 percent to 20 percent from the original 489 billion yen, the Yomiuri newspaper reported. The Taiwanese company is seeking to reduce its offer for Sharp by about 100 billion yen, Jiji news agency reported on Monday without citing its sources.
"Usually, Foxconn cannot change the terms even if INCJ gives up the deal," said Hideki Yasuda, an analyst at Ace Research Institute in Tokyo. "I've never heard such a case before."
Differing Bids
Foxconn, which includes Hon Hai Precision Industry Co., and Sharp have said they are working toward a final agreement.
"Sharp and Foxconn have not set a signing date. Both companies are working hard to reach a satisfactory agreement as soon as practically possible," Toyodo Uemura, a spokesman for Sharp, said last week.
Another Sharp spokesman, Yoshifumi Seki, declined to comment on the Yomiuri report when contacted by phone on Sunday. "We have no new update since Feb. 28," Louis Woo, a spokesman for Foxconn said in an e-mail. On Monday, Hon Hai said it's working under practical terms to reach a satisfactory agreement.
A reduction in the value of Foxconn's offer would put it closer to the bid from INCJ. The Japanese government-backed investment fund had offered about 300 billion yen for Sharp, all of which would have been put into the company through the purchase of additional shares.
Potential Liabilities
Foxconn first said it would postpone finalizing the Sharp agreement only hours after the company's board had voted for its bid on Feb. 25. Foxconn said at the time it needed to work through material new information it had received from Sharp. That information included about 300 billion yen in potential liabilities for restructurings and layoffs, people familiar with the matter said.
Foxconn's lawyers and bankers had sorted through the contingent liabilities and concluded earlier this month they would likely not require major changes in the board-approved deal, people familiar with the matter have said. Since then however, Foxconn has sought to get more clarity on the Osaka-based company's financial performance in the current quarter, people familiar with the matter have said.
Sharp has forecast a 10 billion yen operating profit for the year ending March 31 and didn't give net income or quarterly outlooks. The company will probably report an operating loss of 23.9 billion yen for the fiscal year, according to an average of analyst estimates compiled by Bloomberg. The company is expected to post a net loss of 23.9 billion yen in the fourth quarter alone, according to estimates.
Cash Squeeze
Atul Goyal, an analyst at Jefferies Group LLC, said last week that given Sharp's financial struggles any delay over a fourth-quarter loss looks like a "negotiating ploy by Foxconn."
Foxconn is seeking to reduce the price it pays for new Sharp shares from the original 118 yen each because of concerns over potential financial liabilities and future earnings, the Yomiuri reported. Foxconn is also considering cutting the size of a 100 billion yen deposit it planned to pay Sharp in advance of closing the deal, the newspaper said.
Sharp is facing a potential cash squeeze because of the expiration of 510 billion yen in credit lines and loans on March 31. The company's banks Mizuho Financial Group and Mitsubishi UFJ Financial Group, have pushed for a bailout agreement before those loans are renewed, people familiar with the matter have said.
Lender Talks
Foxconn is also in talks with Mizuho and Mitsubishi UFJ to reduce the interest rates on the 510 billion yen in credit lines and loans, the Nikkei newspaper reported, without saying where it got the information.
Sharp has been losing money for years and its need for financial support set off the takeover battle between Foxconn and INCJ last year. Its cash and equivalents totaled 208.5 billion yen at the end of December while total debt was 792.7 billion yen, according to data compiled by Bloomberg.
"It's difficult to expect what would happen from now. " said Yasuda.
Before it's here, it's on the Bloomberg Terminal.
LEARN MORE