Duncan Smith Says Resignation About U.K. Welfare, Not EU
Ex-minister says he's not seeking to force David Cameron out

Tories too focused on narrowing deficit, Duncan Smith says
Iain Duncan Smith, who resigned as U.K. work and pensions secretary last week, denied accusations his move was aimed at undermining Prime Minister David Cameron and Chancellor of the Exchequer George Osborne amid Conservative Party divisions over the European Union ahead of June's referendum.
Duncan Smith, one of the leading campaigners within the Tories to leave the EU and a former party leader, told BBC Television's "Andrew Marr Show" on Sunday he quit solely because the government's tax and welfare changes are "deeply unfair." The resignation has exacerbated splits among the Tories over last week's Budget and over Europe. It's also raised further questions over Osborne's chances of succeeding Cameron as Tory leader and prime minister.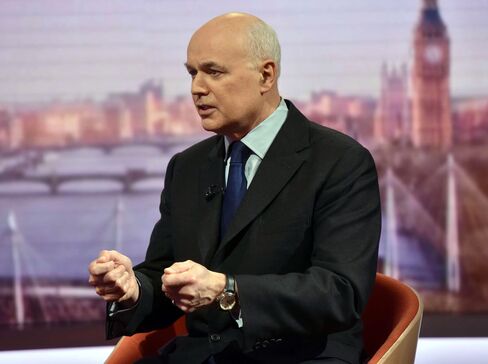 "I am resigning because I want my government to think again about this and get back to that position that I believe, which is about being a one-nation" party, Duncan Smith said. "This is not some secondary attempt to attack the prime minister or about Europe. It's nothing to do with that at all. If I wanted to do that I would have been clear."
Duncan Smith, 61, resigned late Friday, sending Cameron a letter that attacked a series of decisions to cut welfare, culminating in Osborne's Budget statement two days earlier in which payments to the disabled were reduced while taxes on higher earners and companies were lowered. He told the BBC that the government has become too narrowly focused on reducing the budget deficit, damaging the Conservatives' claim to being a party with the interests of the entire country at heart.
'Too Focused'
"The government that I want to succeed is actually not able to do the kind of things that it should because it has become too focused on narrowly getting the deficit down without being able to say where that should fall, other than simply on those who I think progressively can less afford to have that fall on them," Duncan Smith said.
While Osborne's Budget initially drew a positive reaction from Tory lawmakers, criticism soon began to surface about the impact of the disability-benefit changes, intended to save about 4.4 billion pounds ($6.4 billion) over five years. The government signaled on Friday, before Duncan Smith quit, that it was looking again at the details.
Anti-EU Conservatives also announced their opposition to a plan to increase sales tax on solar-energy equipment, in line with a European ruling, with a view to overturning it in a parliamentary vote next week.
Johnson Favored
Bookmakers lengthened the odds on Osborne taking over from Cameron when the prime minister steps down before the 2020 election, with William Hill Plc now making London Mayor Boris Johnson the favorite at 15/8, meaning a successful 8-pound bet would make a profit of 15 pounds.
One Conservative lawmaker, Heidi Allen, said Osborne needs to respond positively to the criticism of his Budget and Duncan Smith's arguments if he is to have a chance of becoming Tory leader.
"If this is attempted to be brushed under the carpet in any way, then I'd say absolutely not, his chances are over," she told BBC Television's "Sunday Politics" program. "If he lifts himself up and shows that he is listening, you know making mistakes is OK providing you correct them before they affect people."
Duncan Smith, who's in direct opposition to Cameron and Osborne in the debate on whether to leave the EU, told the BBC it's "nonsense" to suggest the EU was behind his decision to quit, as suggested by one of his former junior ministers.
'Maximum Damage'
"He seems to want to do maximum damage to the party leadership in order to further his campaign to try to get Britain to leave the EU," Pensions Minister Ros Altmann told the BBC. "He appeared to spend much of the last few months plotting over Europe and against the leadership of the party and it seemed to me he had been planning to find a reason to resign for a long time."
Duncan Smith told the BBC that he'd felt "semi-detached" from the government for some time and considered resigning last year over attacks on the Universal Credit system whose introduction he was overseeing, consolidating several types of benefit into one payment. The implementation of that program has been beset by delays.
In contrast to Altmann, several other government members from Duncan Smith's former department defended his behavior. Employment Minister Priti Patel, another prominent campaigner for leaving the EU, told BBC Radio that Duncan Smith made his case "with great conviction and dignity."
'Moral Tone'
However, Energy Secretary Amber Rudd, who favors staying in the EU, told Sky News television she was "a bit perplexed" by Duncan Smith's resignation. "To suddenly launch this bombshell on the rest of us in a way that is difficult for us all to understand is just really disappointing," she said. "I do resent his high moral tone."
Duncan Smith failed to raise objections to the Budget before it was announced last week, Rudd said.
"The Conservative Party is tearing itself apart over an unfair Budget," the opposition Labour Party's work and pensions spokesman, Owen Smith, said in an e-mailed statement. "George Osborne now needs to urgently clarify whether these cuts to disability benefits will go ahead and, if not, how he will make up for the huge hole in his Budget."
Before it's here, it's on the Bloomberg Terminal.
LEARN MORE